| | |
| --- | --- |
| | April 18-20, 2009: A Visit to Frank & Joe in Leakey, TX |
| | March 5-9, 2009: A Trip to Las Vegas |
| | Return to Index for 2009 |
---
April 15-20, 2009
A Visit with Prudence and Ron
at Ruckman Haus in San Antonio

Fred and I have not been to see Prudence and Ron yet this year, and we have not been out to see Frank and Joe at their house in the Hill Country near Leakey, TX, in forever, and so we are going to wrap both visits into one trip. On this album page, we'll visit Ron and Prudence, and on the next, Frank and Joe.

We have planned to drive down to San Antonio on Wednesday, and stay with Ron and Prudence into Saturday. Nancy and Karl (Prudence's sister and her husband) will be down late in the week so it should be a good visit.

Getting to Ruckman Haus


You've probably seen a map of the route from Dallas to San Antonio before. It is pretty simple, for once you get on the Tollway south from my house, and merge onto I-35 South, it is a straight shot for about 280 miles all the way to downtown San Antonio.

Once in downtown San Antonio, all you have to do is follow I-35 South until you come to the exit for San Pedro Avenue. Once off the expressway, you just take San Pedro Avenue north.

Finally, you just take San Pedro Avenue by San Pedro Park on your left, and, one block past the park, you turn left onto French Place. Prudence and Ron have their bed and breakfast at the end of the first block on your right.


Ruckman Haus Bed & Breakfast


Prudence and Ron have worked wonders on Ruckman Haus in just the past year. The plantings on the front of the house have been changed out, and new ones added to the west side of the house along the deck. Nature has cooperated in that everything has taken hold wonderfully, and the ivy has extended itself up the front of the house, adding an element of warmth to it.

You have probably already taken a tour of the new garage apartment that they have built in the back of the house. This has both rebuilt the garage area to make it more usable, but provided Ron and Prudence the owner's apartment that they have always wanted- enabling them to move out of the basement and into a really great suite of rooms with sunlight and a view.

The East garden has also been transformed, and everything that Prudence has planted is growing up nicely. The Ruckmans have also built a new stucco wall between their garden and the neighboring house, and this has added a lot of privacy to the garden and made it a place that guests use frequently (what with the waterfall and all). Finally, they have added a garden gate at the front of the house, and you can see the extent of the garden by looking through it.

So the improvements that Ron and Prudence have made in the last eighteen months have set the stage for them to be able to concentrate on just operating the B&B and interacting with their guests for quite some time to come.

Having brought you up-to-speed with the house itself, we can just take a look at what we did while we were here. For these places that Fred and I visit repeatedly (like Ruckman Haus, the Florida condo and the Arboretum), we either tend to take the same pictures over and over or we don't take pictures at all unless something new and interesting either happens or is encountered. Such was the case for this trip to Ruckman Haus. Fred and I did not take pictures of the house (except for the two above) because we'd done all that before, and you've already had a chance to see them on other album pages. Similarly, if you've been elsewhere in this album, you've seen lots of pictures of Ron and Prudence too. So for this visit, we'll just take a look at the two things we did that you have perhaps NOT seen before.


A Walk in San Pedro Park


San Pedro Park is the second oldest municipal park in the United States. It was declared public land in 1729 by King Philip V of Spain. Today, the park comprises an area of over 48 acres.

San Pedro Springs was known by indian tribes long before the Spanish arrived, but on April 13, 1709, it was named San Pedro Springs by Father Olivares and Father Espinosa on an expedition in Spanish Texas.

Prudence and Ron are fortunate to live only one short block from the park, and their guests like the convenience as well. Fred and I usually visit the park at least once on each trip down here, if only to throw the frisbee back and forth. Today, it being a little cool, we are just taking a walk through the park.

We just walk down Breeden in front of Ruckman Haus and then along Ashby a short ways to the entrance to the Playhouse and the Tennis Center. From there, we have complete access to the park. We stopped at the Springs themselves, then walked all the way around the San Pedro Springs Pool which, in the summertime, is opened to be a wading and swimming pool. We stopped at the Springs again before heading back to Ruckman Haus.


Below are some thumbnail images for the few pictures we took on our walk. Just click on them to see the full-size images:

At the Institute of Texan Cultures

On Thursday, Prudence, Ron, Ron's niece Robin (who is staying with them at Ruckman Haus while she works at one of Ron's favorite restaurants- The Palm), Fred and I took a trip over to the Institute of Texan Cultures which is on the grounds of Hemisfair Park, southeast of downtown San Antonio.


The Institute of Texan Cultures is a 182,000-square-foot cultural experience museum featuring 65,000 square feet of interactive exhibits and displays that tell the stories of Texans. The mission of the Institute of Texan Cultures is to engage lifelong learners in the understanding and celebration of Texas cultural heritage.



In the aerial view at right, you can see where the Institute is relative to Ruckman Haus. It is not a long way; the aerial view is perhaps three miles high. But because of San Antonio's jumbled street system, getting there takes some doing, although you can always just point yourself in the general direction of Hemisfair Tower, which can be seen from all over the city.

When we got to the Institute, Ron kindly bought our admission and we head inside to look around. Right inside there is a huge neon Texas flag, and I stopped to take a picture of it, and then another kindly museum guest offered to take a couple of shots of all five of us. Thumbnails for these pictures are below. Click on them to view: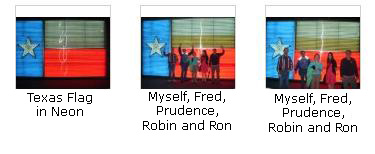 When we entered the museum proper, we found a large crowd seated in the main central area. There were lots of people standing around with flowers, and a bunch of military folks with band instruments. Pretty soon, it became apparent that it was a citizenship ceremony, with perhaps a hundred people taking their oats of citizenship. It was appropriate that this was being held in the Institute of Texan Cultures, and I am sure it was memorable for everyone. The ceremony ended pretty soon after we arrived, so we were unimpeded in our wanderings through the museum. I took a few pictures, including one of Father Guy's Church that I took with my iPhone. Then, I used the phone to email it to him and, as luck would have it, he was by his computer and called me back right away to let me know he'd gotten it! Ah, the wonders of technology.

Below, I have put thumbnail images for some of the other pictures I took, and you can click on these thumbnails to have a look at these pictures:

Inside the Institute for Texan Cultures

Just before we left the museum, I made a movie panning about some of the exhibits so that you could see what it was like.

At the Witte Museum

After our visit to the Institute, Ron drove downtown and we parked and walked around the early part of Fiesta, but it was pretty schocky and I didn't take any pictures. Then, on the way home, we thought we would drop by the Witte Museum.


The Witte Museum is San Antonio 's premiere museum of South Texas history, culture, and natural science. Located in Brackenridge Park , on the banks of the San Antonio River , the Witte offers permanent exhibits that include dinosaur skeletons, cave drawings, wildlife dioramas, and even some live animals. Several historic homes have been reconstructed on the campus, which also features the very popular H-E-B Science Treehouse. Changing galleries include Texas artists, textiles and showcase exhibits, some locally produced and some traveling national exhibits.

Unfortunately, when we got there, the museum was fifteen minutes until closing, so we couldn't go in. We did spend some time (and money) in the museum store, and as we left for home, I got a picture outside of Fred and a statue.

Then it was back to Ruckman Haus.


The Rest of our Visit

Nancy and Karl arrived on Friday, and the group went out to Capaletti's for dinner. I wasn't feeling well, so I stayed back at Ruckman Haus and had some chicken soup (natch). When everyone returned we spent some time catching up.

We spent some more time together on Saturday morning, and Fred and I left about noon to head out to Leakey and our visit with Frank and Joe.


You can return to the Page Index or use the link below to return to the Index for 2009.
---
| | |
| --- | --- |
| | April 18-20, 2009: A Visit to Frank & Joe in Leakey, TX |
| | March 5-9, 2009: A Trip to Las Vegas |
| | Return to Index for 2009 |