| | |
| --- | --- |
| | August 23, 2009: Marco Antonio Solis Concert at the AA Center |
| | July 8, 2009: Birthdays for Fred, Ron Mathis and Mario |
| | Return to Index for 2009 |
---
July 20, 2009
Michael Martin Murphey Performs at
Waxahachie's Texas Theatre


In June, we happened to be visiting with Mario and Steve when Mario showed us a press release that indicated Michael Martin Murphey would be performing in Waxahachie at the old Texas Theatre. He has always been a favorite of Fred's, and I, too, have some of his CDs. The four of us decided that we would go down to see him perform, and make an evening of it in the small town of Waxahachie, which is about 30 miles south of Dallas.

Getting to Waxahachie


We planned to spend some time looking around town and having dinner before the performance, so we left my house about four in the afternoon. It was a quick trip down Interstate 35E to get to the exit for Waxahachie.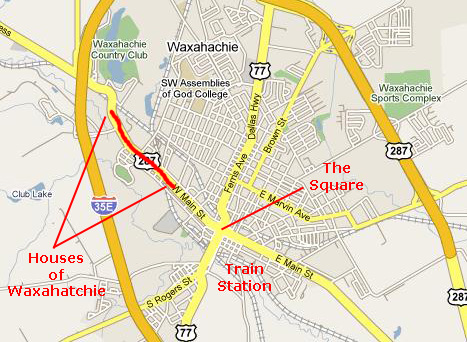 When we got to the exit and turned southeast to head into town.


Waxahachie's Historic Homes District


As we headed east on Main Street, we entered the West End Historical District, which had many very nice, restored homes for us to look at. We were all interested in the architecture and the restorations, Steve and Fred most of all. So we stopped often on our way into town to have a look at some of the houses. (A little later on, we also drove through an area a few blocks off Main Street in an area that had more restored old homes, and I'm going to include those homes here.) We took quite a few pictures, and the three of us duplicated quite a few of them. So I've selected the best pictures of the various houses to show you here.

These pictures are rotating in the slide show at left. You'll know you've gotten to the beginning of the show when you see the Historic District street sign on the title image.


There was one other house that we drove by later in the day on our wanderings around town. It actually had a name- Mt. Patrick. The main house seemed to have been restored quite nicely, but I can't say the same for the garage. If you don't remember from the previous picture what the garage looked like, you can see a close-up of it here.

UPDATE:

On August 30th, 2015, I received a charming email from a young lady named Becky Lowry. I am always pleased when someone other than family and friends wanders across my photo album, and so I was happy to hear from her. The email she sent concerned the house I mentioned above, and so I thought I would add her comment to this page.

Hi Ron!
I happened across a picture from your trip to Waxahachie some six years ago. It is of the M T (Marshal Trigg) Patrick home and a leaning garage. I thought you might like to have an update of my family home. My great, great grandfather built this home for himself, his wife and three daughters in 1899. My mother, bring the sole descendant lives there now. It has remained in good repair for all of its 116 years, as all family members who have lived there have valued her for beauty that she is even though it can be struggle to maintain. The leaning garage has been righted and has once again found it's usefulness. I hope you visit our fair city again soon, as it going through a drastic downtown revitalization.
Sincerely,
Becky Lowry

Waxahachie's Courthouse and Square


Waxahachie, like most old Texas small towns, is built on a grid. The block in the center of town, which is usually at the intersection of the town's four most prominent streets, has the courthouse. The blocks surrounding that, working outward, have the businesses that any small town needs, and were the center of activity until shopping centers and Interstate highways came along.

Waxahachie is typical, as you can see in the aerial view at left. The courthouse, which we'll look at in a moment, occupies the center square (I'm recalling the TV show "Hollywood Squares" right about now). Across the four streets that bound the center square are the prime business locations (the Texas Theatre and the restaurant where we ate dinner had two of these prime locations). Depending on the size of the town, the rest of those blocks surrounding the courthouse, and more blocks beyond them if necessary, were also given over to businesses. Today, after the urge to move further and further out from the center of town has run its course (at least in these small towns), residents have moved back closer to the town square, and many of the homes you saw earlier are quite close to the center of things.

In the late nineteenth and early twentieth centuries, small Texas towns were almost in competition with each other to see who could have the nicest, most ornate courthouse/city hall, and so there are striking examples of prairie and southwest architecture in towns and cities all across the state. In places like Dallas and Houston and San Antonio and Austin, the courthouse has gotten lost amid the skyscrapers and expressways, but in the small towns they are still the most prominent feature.

The Courthouse

James A. Michener, in his book, Texas, best described the Ellis County Courthouse as "A fairy tale palace, replete with battlements and turrets and spires and miniature castles high in the air- one of the finest buildings in Texas." It is indeed a jewel of a building that has been designated as number eight on the list of outstanding architectural achievements in Texas. On the Southwest side is the bronze statue of Richard Ellis, after whom Ellis County was named. He was President of the defiant 1836 Constitutional Congress, which declared Texas independence from Mexico. The voters, who were told by the state legislators to call it Waxahachie- a Tejas Native American word for "buffalo creek"- decided the location of the County Seat. Sixty-two acres boarding the Waxahachie Creek, donated by one of the earliest settlers, Emory W. Rogers, became the site for the Courthouse.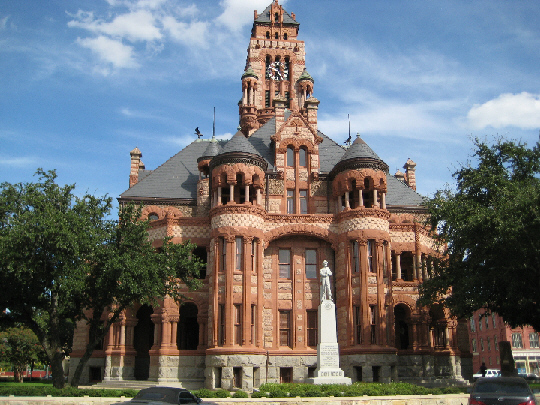 Texas has more Courthouses (225) than any other state; 86 are on the National Register and 78 are Texas Historic Landmarks. Courthouses have always been a symbol of self-government and civic pride. Collectively, the courthouses were viewed as a sign of progress. They serve as the heart of the community and the hub of social activity. The Ellis County Courthouse was no exception to the rule. This is the fourth courthouse to stand on this site, starting with an 1850 log cabin for $59, then in 1885 a wooden frame structure for $1999, to a two-story yellow limestone building for $40,000, and finally, the most recently restored Courthouse was accepted in 1897 for approximately $130,000. Not to be outdone by their neighboring counties, the Ellis County Commissioners set about to build their new Courthouse on a grand scale. The timing was right since the 1881 Texas State Legislature had authorized bonds for building new Courthouses. Even today, controversy abounds about the actual construction of what would become one of the most artistic and beautiful public buildings in the South. With the boom in Courthouse building, sales/contractor Otto Kroeger came to Waxahachie to sell a stock courthouse plan designed by noted architect James Riley Gordon, known for his Richardsonian Romanesque style, and credited with over 60 courthouses nationwide. As you read a bit about the courthouse, you can look at our pictures of it by clicking on the various thumbnail images.



This massive and stately edifice (23,739 square feet) stands nine stories tall, with a working clock tower featuring an 800-pound bell. The Courthouse sits on a three foot thick twisted steel and concrete foundation that supports 12 inch steel beams- giving it a heaviness of style characteristic of designer H. H. Richardson, who also designed Trinity Church in Boston (1877). Gordon combined brick and stone, by contrasting textures and colors of masonry, including a gray granite base, rose pink granite walls, Burnett County limestone, and Pecos Red sandstone. In addition, turrets, some with curved glass, massed short robust columns, deep set windows, semi-circular arches, cavernous recessed door openings, and unusual sculptured shapes made this building the epitome of this revival style, a showplace for its time and today. Other elements set this structure apart from its contemporaries- such as the 21 exquisitely carved stone faces that decorate the porches, gleaming copper gutters and downspouts and four soaring bronze eagles. It was no wonder that in the invitation for the laying of the cornerstone, it was proposed to make that day "the grandest day in the history of the County" and that every citizen should take an interest in this "temple of justice."



Listed in the National Register of Historic Places, the Waxahachie Courthouse is also recorded as a Texas historic landmark.

As the centerpiece of the Nationally Registered Ellis County Courthouse District, there are an additional 42 contributing members (buildings) of the District around the business square. As part of a program to restore restore many of the historic Texas Courthouses, the Waxahachie courthouse was completely restored and renovated beginning in 1998 at a cost of some $10 million.


Around the Square

We spent some time walking entirely around the courthouse, looking at the various old buildings on the streets and corners opposite. If you will click on the thumbnail images below, you can walk around the courthouse with us and admire the turn-of-the-century architecture:


Courthouse Square in Waxahachie


I made a movie of the square while standing near the SE corner, and you can watch that movie using the player at left.


Dinner in the Chisholm Grill


Since the Michael Martin Murphey performance began at eight, we thought we'd better get an early dinner, rather than wait until afterward (which was a good idea since Murphey turned out to be late going on stage). Right across from the courthouse on the east side of the square we found an interesting local place (which filled up while we were there) called the "1879 Chisholm Grill." I took the year to be a reference to either when the restaurant started or, more likely, when the building it is in was built. A sign out front indicated that the building was built "c. 1890", so perhaps this assumption was correct.

In any event, we found a varied menu that everyone was happy with, sat down, ordered dinner, and were through in plenty of time to do some further driving around town. (See the next section.) Fred was particularly happy with the selection of desserts, and we ended up splitting a cobbler.

If you will click on the thumbnail images below, you can see some of the pictures we took outside and inside the 1879 Chisholm Grill:




Driving Around Waxahachie


When we first arrived in Waxahachie, and turned down the main highway into town, we passed a fountain just ahead of the town limit. This was the first place we stopped to look at some of the houses. We took a couple of pictures at the fountain, one of Fred and I and one of Fred and Steve. Then, while Steve and Fred were looking at the first of the many restored houses, I walked across the street to a small strip center to take a picture of the sign for a local gym. You may wonder why, until you take a look at the sign here.

We learned one other thing about Waxahachie at this point; it happens to be the crape myrtle capital of Texas, or so the lightpost banners told us.

One other place that we stopped while we were driving around after dinner was at the old train station, which is currently being entirely renovated. It was just a couple of blocks south of the courthouse, and was the station for the MKT Railroad. They are doing a good job on it, and Fred got out to take a couple of pictures of it. You can see those pictures here and here.


The Performances

We drove back to the square about thirty minutes before Michael Martin Murphey's performance at The Texas Theatre was scheduled to begin. In 1895, the Dixie Theatre opened on this site, and for the next 115 years was not only a performance venue but, when motion pictures came along, a movie theatre as well. There aren't many movies shown here now; it is back to being a performance venue, showcasing mostly local Texas talent, presenting locally-produced plays and hosting various holiday celebrations in Waxahachie. The Texas Theatre occasionally draws a "big name," like Murphey, but it is mostly a very local venue.


Michael Martin Murphey's Opening Act


We picked up the tickets and headed in to the small (by today's standards) theatre. We were about five rows back from the stage. I would estimate that, including the balcony, the theatre might hold 150 people. I didn't realize that there would be an opening act, but there was. I didn't jot down the two guys' names, but it seemed as if the locals knew them fairly well. They sang and told some jokes, and did a bit of yodeling as well. If you'd like to have a look at part of their performance, watch the movie I made of them using the player at right.

They were on stage for about 45 minutes when the emcee got up and said that Murphey had run into a problem in getting to Waxahachie and that he'd be at least a half-hour late. The two fellows were troupers and did a whole host of songs, and then, when Murphey arrived about eight-thirty, we took a short intermission so that his crew could get the stage set up.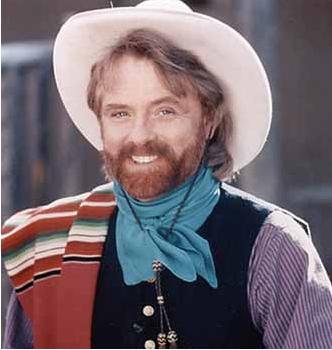 I enjoyed Murphey's performance. He has been one of the few "cowboy" singers that I've liked (as distinguished from the much different "country" genre). I'm sure you've heard lots of country music; it is all the rage nowadays. "Old Country" began at the turn of the century, with small groups and lots of banjos and the Grand Old Opry. It has pretty much died out and has been replaced with "New Country" of the Garth Brooks/George Strait/Dolly Parton/Dixie Chicks variety as seen on CMT or GAC. In fact, today's country seems more and more to be merging into Pop, and if you attend a concert on a big-name country tour, you'll see the same fireworks and light shows as you would if you went to see Madonna or Coldplay.

Cowboy music has gone in a different direction. It is "western" in its settings and themes and is much more poetic than Pop. Murphey is probably the best-known example of cowboy music, now that John Denver is gone (although Denver took cowboy music all the way to Folk). Frank and Joe, our friends from South Texas, do cowboy music- not Folk or Pop. Anyway, I got to like Murphey when Fred and Frank introduced me to him, and particularly when Lowery, Ron, Fred and I went to see him in Garland in the mid 1990s. I have three of his CDs, and particularly enjoyed Cowboy Songs, a compendium of songs taken from cowboy lore and the trail rides.

All this is to say that while I enjoyed the performance, I, like many people, always want the performer to do his/her songs as we are used to hearing them from albums and CDs. But they hardly ever do. Murphey did a lot of talking and story-telling, and only once or twice sang a song all the way through. And while I can hardly blame him, his voice is not what it was fifteen years ago; he, like most aging performers, can't hit the same notes as he once could. So there were rearrangements of many of the songs and although he did a great job with most of them, I was hearing his earlier self in my head. For about a third of the performance, he was accompanied by a friend he has known for a long time, a guitarist who also worked closely with John Denver back when they were all hanging out together in Colorado.

I took quite a few pictures and movies during Murphey's performance, and I want to include just the best of them here. The pictures were a bit tricky in the darkened theatre, but you can have a look at the best of them here and here.

Now for the movies. As I said, Murphey has had to adapt his performance to the changing of his voice, and so the songs he sang tonight were very, very different from what you would find on his old albums. So rather than just show you my own movies of three of my favorites that he performed, I want to juxtapose them with videos of him doing the same songs much earlier in his career.

"Wildfire"

Wildfire is arguably the best-known of all of Murphey's songs. You can use the left-hand player below to watch one of his best performances of that song. The instrumental intro is a bit long, but I think you'll enjoy it. His performance of that same song was much different here at the Texas Theatre, and not just because it was just him and a single guitar accompanying him. You can watch his performance here in Waxahachie using the right-hand player below:
| | | |
| --- | --- | --- |
| Murphey Performs "Wildfire" c. 1980 | | Murphey Performs "Wildfire" in Waxahachie |
"A Long Line of Love"
I first heard this song in the mid-1980s on a country station while I was driving. I liked the melody and the sentiment, and it became a favorite. Use the left-hand player below to watch Murphey's performance of this song at Frontier Days in Fort Dodge, Iowa, five or six years ago. It didn't have the production values of the CD song, but then he's by himself on a small stage. He didn't do the whole song here at the Texas Theatre; he ended up talking the last third of it. Have a look at my movie of his performance using the right-hand player below:
| | | |
| --- | --- | --- |
| Murphey Performs "Long Line of Love" c. 2005 | | Murphey Performs "Long Line of Love" in Waxahachie |
"Cowboy Logic"
I actually saw Murphey for the first time in this video, which I ran across while watching Country Music Television on a business trip somewhere. I didn't have cable at home, and I liked watching CMT whenever I could. This video will give you a good idea of what scenery and action can do for Murphey's songs. You can watch it using the left-hand player below. Here in Waxahachie, Murphey hardly sang much of this song at all; it was, to my mind, mostly talking, and so I was disappointed in it. You can watch my movie of Murphey doing this song here at the Texas Theatre using the right-hand player below:
| | | |
| --- | --- | --- |
| Murphey's Music Video for "Cowboy Logic" | | Murphey Performs "Cowboy Logic" in Waxahachie |
The show was over about ten-thirty. On the whole, and with all the caveats I talked about above, it was enjoyable, and well worth the drive and the tickets. I might wish for the cute younger Murphey with the great voice, but I might also wish to turn my own clock back a few decades.
---
| | |
| --- | --- |
| | August 23, 2009: Marco Antonio Solis Concert at the AA Center |
| | July 8, 2009: Birthdays for Fred, Ron Mathis and Mario |
| | Return to Index for 2009 |