| | |
| --- | --- |
| | February 20, 2010: Visiting the Fort Worth Museums |
| | January 15-18, 2010: Florida Ron and Jay Visit Dallas |
| | Return to Index for 2010 |
---
February 11-12, 2010
Dallas Gets a Record Snowfall




On the afternoon of February 7th, it was close to seventy degrees and sunny here in Dallas. Fred and I played frisbee as we often do over in Greenway Park that afternoon before we went to dinner at Lucky's. I wore a sweatshirt and shorts and was quite comfortable. On Monday, the 8th, Fred went home to Van Alstyne, taking Lucky with him, as he often does when he's going to be gone all week. By Tuesday evening, the weather forecasters were saying that there would definitely be a change in the weather, and by Wednesday morning, February 10th, they were even forecasting a chance of snow the next day.

How right they were!

On Thursday morning, I awoke to a temperature of close to freezing and when I looked outside I was amazed. Snow was coming down harder than I have ever seen it in Dallas. Nothing like Chicago, but by Dallas standards it was a blizzard. I holed up in the den with my space heater on and every little while I'd go to the windows and watch the snow come down. I turned on the TV and the snowfall was story #1, #2 and #3, and many of the weatherpeople said we were possibly headed for a near record snowfall. Again, how right they were!

Along about three o'clock there seemed to be about six inches of snow on the ground- light fluffy stuff that looked really neat. So I bundled up and took my camera out around the condo to see what it looked like.

Snow in the Afternoon

I took my camera and made a movie of the snowfall this afternoon. I stood in the driveway across from my front door and filmed the scene in all directions.


After I made that movie, I walked around the condo driveways for a while, looking at the snow and taking some pictures. If you will click on each of the thumbnail images at left, you can see some of these pictures.


It kept snowing all afternoon, although not as heavily as in the morning. By evening there was an 8-10 inch layer of fluffy white stuff on all exposed surfaces.


Around ten o'clock after I watched the weather portion of the evening news, I decided to bundle up and go out for another walk around the townhouse complex to see what the snow looked like now. As it usually is after a snowfall, it was eerily quiet, the snow acting as a blanket to absorb most of the sound. There wasn't much traffic on Inwood, and that added to the quietude. I took quite a few pictures, but have only picked six of them to include here. I like the way the flash bounced off the mid-air snowflakes, creating a prism effect in some of the pictures. Click on each of the thumbnail images below to see the corresponding picture full-size:




I went to bed with the snow still falling, and awoke to the morning news on TV that confirmed the record snowfall amount for a single snow event in Dallas. Here is what the Dallas newspapers had to say:
| | | |
| --- | --- | --- |
| | "The extreme snowfall of February 11-12, 2010 goes down as THE snowiest 24-hour period in the history DFW weather records, according to the National Weather Service (NWS). An amazing 12.5" was measured, 11.2" of which fell on the 11th. This also sets the new one calendar day record. The tally also pushes the winter of 2009-2010 into second place, just behind 1977-78 for all time snowiest, and second snowiest February (also behind 1978)." | |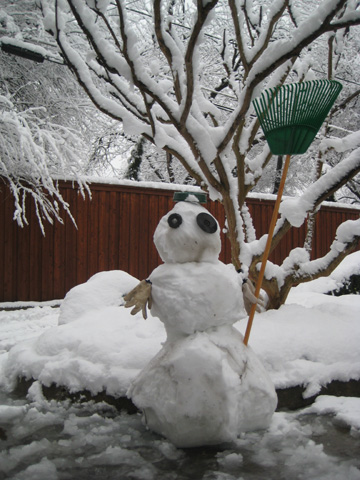 The snow was so bright and beautiful that the kid in me took over and I went out to see if I could build a snowman. I think that the last time I had a hand in building one was probably at some point growing up in Charlotte when we had an unusual snowfall like this one, and so that was probably almost fifty years ago. I had plenty of opportunity in Chicago, but never got around to it. Today, I would remedy that.

I decided to build it out behind the garage. When I started trying to roll the snow I found it pretty hard to do. The temperature was some degrees north of freezing, and so the snow was melting on all hard surfaces- and that's all there is behind my garage. The snow was so waterlogged that even a relatively small ball became very hard to manipulate because it was so heavy. The weight of a ball that I could lift limited the size of the snowman. I used a couple of round objects that I found in the garage for the eyes, a sprinkler for a hat and I put some gloves onto him for hands. Finally, I added a rake for effect.

It wasn't a very esthetically-pleasing effort, but it was satisfying. As it turned out, it lasted for the better part of three days before it melted away.

After I finished the snowman, I took a couple more pictures around the townhouse, one of the side driveway and one of the snow-covered trees out back.


A little while later, I got in the car and drove over across Inwood into Greenway Park to see what the snow looked like there.


Snow in Greenway Park

I drove over to Greenway Park and stopped the car at the point marked on the little aerial view below to take a movie looking all around the area.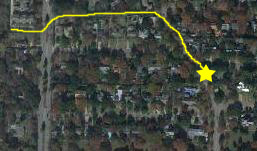 Unlike the area right around my townhouse, Greenway Park has lots of lawns and small park areas, and the snow looked even better over here, since the melting was less obvious. It was also even quieter over here due to the blanket of snow. If you will click on each of the small thumbnail images at right, you can see some of the pictures I took here.



Our Frisbee Field

When Fred and I want to throw the Frisbee around, we always come to the same open grassy area over here in Greenway Park. You can see it in the little inset aerial view below: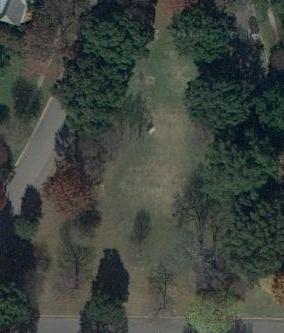 I stopped the car on the street beside the little park to take this movie. , and I also took a still picture that you can see below:
---
February 11-12, 2010
Van Alstyne Gets Snow Too!




The next time Fred came down to Dallas, he brought not only Lucky but the pictures he'd taken of the snowfall around his place in Van Alstyne. I've sifted through those pictures and simply included the best of them here. I've labeled them so you'll know what you're looking at, since there aren't many pictures of Fred's place here in my photo album. One of these days, maybe he'll get around to putting some of them on his own Web site.

For now, just click on each of the thumbnail images below to see the pictures that Fred took:

I hope you enjoyed looking at these pictures of the record snowfall in Dallas (and Van Alstyne). It will be a long time before I see its like here again!

You can use the links below to continue to the album page for different day.

---
| | |
| --- | --- |
| | February 20, 2010: Visiting the Fort Worth Museums |
| | January 15-18, 2010: Florida Ron and Jay Visit Dallas |
| | Return to Index for 2010 |