| | |
| --- | --- |
| | December 29, 2010 - January 12, 2011: A Trip to Florida |
| | December 9-12, 2010: A Trip to Natchitoches, LA |
| | Return to the Index for 2010 |
---
December 25, 2010
Christmas Day at Steve and Mario's




This year, I did something a little different for Christmas; actually, there were two differences. First of all, I usually cook a ham on Christmas, having cooked a turkey on Thanksgiving. But we were in North Carolina for Thanksgiving, and my sister cooked the turkey (and naturally had all the great leftovers all to herself). I count on Thanksgiving to replenish my freezer, as I like to enjoy turkey throughout the year. So instead of a ham this year, I decided to do a turkey.

The other difference was that Steve and Mario wanted to take a turn at having a holiday dinner at their house, and since Mario's sister, Martika, would be visiting, this would be more convenient for them, and give them a chance to entertain. So the difference was that we did the cooking at their house rather than mine.


To make this happen, a good deal of preparation was required. I took the responsibility for getting the turkey, dressing and gravy ready, and Mario and Steve did everything else save for the desserts, which were Fred's responsibility. Since we were going to cook the turkey at Mario's house, though, I had to prepare it and the dressing at my house and then take the ready-to-roast turkey over there. I did that on Christmas Eve, so that on Christmas Day, Mario could just get up early and go put the turkey in the oven, turn it on, and catch some more sleep time (which is what I usually do on Thanksgiving).

He did his duties right on schedule, and by the time Fred and I got to their house towards noon, the turkey was well on its way to being done. All I did was baste it some more for the last hour or so of cook time. This worked out really well, and the turkey cooperated by cooking itself nicely. When it was close to done, I used all the utensils and supplies I'd brought over to make the gravy, while Steve, Mario, Martika and Fred got everything else ready.

Midway through these preparations, Steve and Mario's friend Nancy arrived to have dinner with us. Right about two we brought the turkey to the table and I started carving it while everything else was getting set up.

Then it was time to sit down and enjoy. When we all got seated, Fred and I wanted a couple of pictures. Perhaps we should have set up the tripod, but instead first Fred took a picture of the rest of us and then he and I switched out and I took another. You can see these two pictures if you click on the thumbnails below.

We had a really great meal; everything turned out just like all three cooks hoped. Nancy was even able to take a care package home to her mother when she left in late afternoon.



Just after Nancy left, we got to the opening-of-gifts phase which, when you're young, is the main part of the day but which, when you are older, is just a nice add-on. Fred took a couple of snapshots of Mario and I, first when I opened the DVD of "The African Queen" that Mario and Steve gave me (bringing me within five movies of completing my collection of the AFI Top 100 Films) and then when Mario unrolled the poster that Fred and I gave him. If you would like to see these snapshots, just click on the thumbnails at right.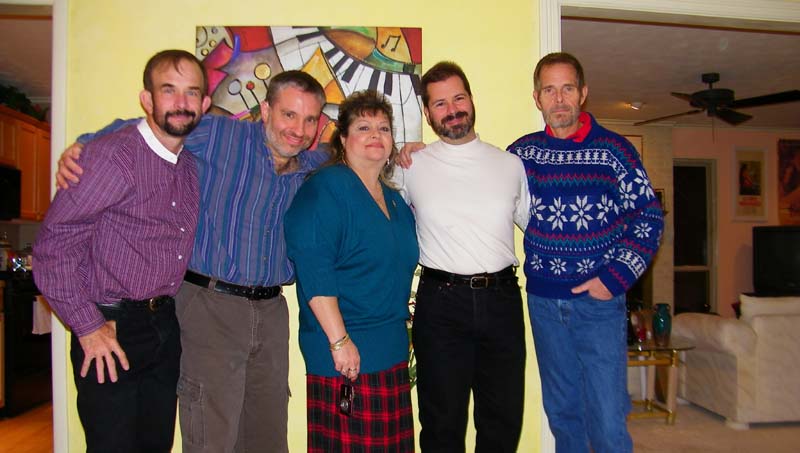 Fred, Mario, Martika, Steve and I
We enjoy seeing Martika when she comes to visit each year, and Christmas Day at Steve and Mario's was very, very nice. My thanks and kudos to them for all the preparation they put into it!
You can use the links below to continue to the album page for different day.

---
| | |
| --- | --- |
| | December 29, 2010 - January 12, 2011: A Trip to Florida |
| | December 9-12, 2010: A Trip to Natchitoches, LA |
| | Return to the Index for 2010 |