| | |
| --- | --- |
| | November 28, 2013: Thanksgiving |
| | October 14-28, 2013: Our Fall Trip to Florida |
| | Return to the Index for 2013 |
---
November 3, 2013
We Visit With Frank, Joe and Mrs. Roberts
in Fort Worth
Frank Roberts and Joe Wells let us know a while back that they would be in Fort Worth for a couple of days visiting with Frank's mother for her birthday, and we have made plans to drive over there today and have lunch with the three of them. We don't get to see Frank and Joe as often as we'd like, so any opportunity to get together with them is not to be missed.
We got to Mrs. Roberts' house just before noon.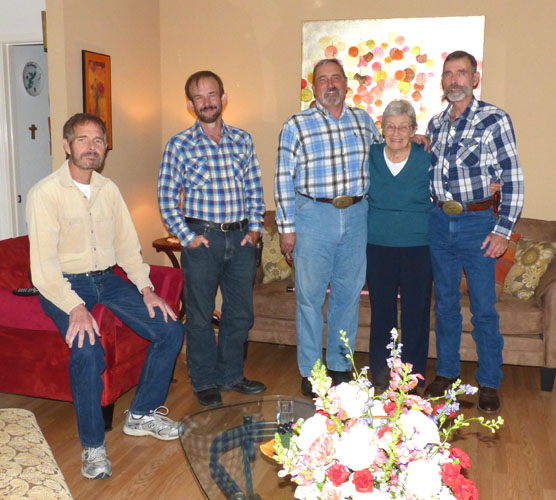 Me, Fred, Frank, Mrs. Roberts and Joe


When we arrived, we had time to converse with Joe and Mrs. Roberts (whom I had met once before on the occasion of her 90th birthday party three years ago) while Frank was getting ready. Mrs. Roberts had a particularly pretty flower arrangement out that she'd received the night before, and Fred and I took a few candid shots before we went to lunch. There are clickable thumbnails below for the best of these:




Before we left for lunch, both Fred and I made movies, neither one anything earthshaking, but watchable if only to hear Frank, Joe and Mrs. Roberts. You can watch these with the players below:
| | |
| --- | --- |
| Loading the player... | Loading the player... |
A bit later we went on to lunch, and had a good time catching up with Frank and Joe before returning to his Mom's house and taking our leave.
---
| | |
| --- | --- |
| | November 28, 2013: Thanksgiving |
| | October 14-28, 2013: Our Fall Trip to Florida |
| | Return to the Index for 2013 |