| | |
| --- | --- |
| | December 18, 2013: Barbara Takes Us to see "ICE" at the Gaylord Texas Hotel |
| | November 3, 2013: Visiting Frank and Joe in Fort Worth |
| | Return to the Index for 2013 |
---
November 28, 2013
Thanksgiving at My House
As usual (and as I like to do) I prepared the Thanksgiving turkey this year at my house. There were seven of us for Thanksgiving dinner (which I did a bit later than usual): Denny and Larry, Justin and Gary, Fred and myself and Steve (Mario, who at the moment is working at CD Source, was working this afternoon and couldn't be with us). My best friend Greg was having dinner with John Toohey and John Lambert, our cruise partners from a few years ago, but he joined us for dessert.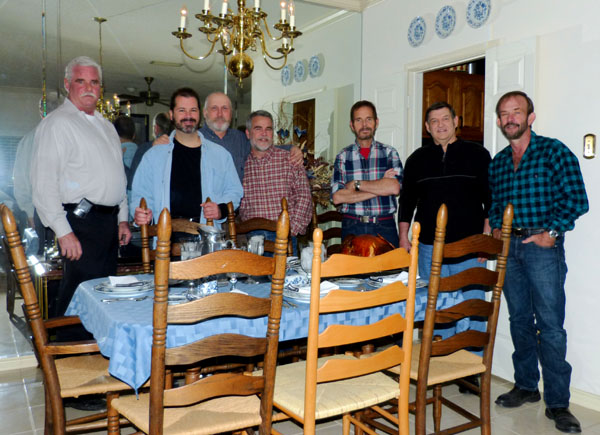 L-R: Larry, Steve, Gary, Justin, Myself, Denny and Fred


Thanksgiving is quite a deal. Most of my prep work is done the night before- all the slicing and dicing involved with making the stuffing so that it is ready to stuff into the turkey on Thanksgiving morning. The turkey usually goes in early in the morning, but since we weren't planning on eating until five or so, I didn't put it in until after nine.

Then Fred helped me do some serious downstairs cleaning so our guest wouldn't be too offended at my lackadaisical approach to housecleaning, and by the time the first guests arrived about three we were all ready for them.


Actually, I think we knew the guests were beginning to arrive when all three of the cats rushed into the front room and up onto the cat perch, obviously intent on watching something outside.
| | |
| --- | --- |
| Look! Someone's coming! | Fred! Ron! Come look! Your guests are here! |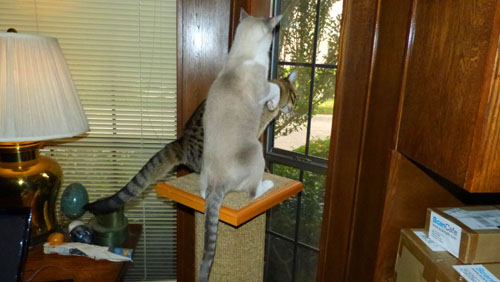 Yay! They're almost here!
Fred did the picture-taking this afternoon; I should have done my share to get him in some of them. Below are clickable thumbnails for some of the pictures he took of dinner and afterwards:
It was a really nice dinner and dessert with some of our closest friends. And everyone went home with a doggy bag for later!
---
| | |
| --- | --- |
| | December 18, 2013: Barbara Takes Us to see "ICE" at the Gaylord Texas Hotel |
| | November 3, 2013: Visiting Frank and Joe in Fort Worth |
| | Return to the Index for 2013 |