| | |
| --- | --- |
| | July 28, 2014: A Visit to the Dallas Arboretum |
| | Return to the Index for 2014 |
---
August 4-7, 2014
Fred's 60th Birthday
(At Ruckman Haus in San Antonio)




In a departure from tradition, Fred and I are driving down to San Antonio to celebrate his birthday. Prudence, Ron and Guy will be there, of course, but so will Nancy and Karl. It has been tradition up until now to celebrate the birthdays of Ron Mathis, Mario Tarradell and Fred at a combined party the first Saturday in August; this tradition has had a long run, but, sadly, the three couples involved seem to have grown somewhat apart, and so this year, while I've let the others know that if they would still like to have a gathering when we return, we won't be doing the party this year. Whether we pick it up again next year is an open question; I hope we do, but only time will tell.

Getting to the Ruckmans' House in San Antonio

In another departure from the last 14 years' worth of album pages, it is probably time now to stop referring to the house that Prudence and Ron live in as "Ruckman Haus," since they are no longer operating as a bed and breakfast. Now, the house is simply their home, and so from now on, I'll refer to it that way.

Henceforth, I'll also standardize the maps and views that show where they are in San Antonio and how we get there. We visit there frequently, so I know that, as has been the case on prior album pages, the reader may come to find this information repetitive. I put it on each of these pages solely in case a viewer happens to arrive here without previously viewing other pages involving trips to visit Ron and Prudence.

On the maps below, you can see the route to the Ruckmans' house. It is an easy matter to simply hop on I-35E from the Tollway in Dallas and take that highway all the way south through Austin to San Antonio. This 280-mile trip routinely takes about 4.5 hours. In San Antonio, we continue to follow I-35 into the city, eventually exiting onto San Pedro Avenue. We take that north about two miles, and either hang a left on Ashby and a right on Breeden or just a left on French to get to the Ruckmans' house on the northeast corner of Breeden and French.

In case you have not seen them, I have put below first an aerial view of the Ruckmans' house (it is the house on the corner and the garage/apartment building north of it where Guy lives) and a front view of the house (taken in 2010).

Dinner at the Ruckmans' House (8/4)

We arrived in San Antonio about three-thirty to find Prudence and Guy doing some work on combining the Sun Room and the English Room into a new master suite for Ron and Prudence. We found a Crock-Pot in the kitchen where Ron was preparing a roast for dinner. This has become something of a common occurrence since the B&B closed; Ron and Prudence will cook dinner a couple of nights a week.

The Table is Set for Dinner


Even though Prudence is no longer operating a bed and breakfast, she still pays attention to detail, even at these family dinners. She has set the table perfectly, in preparation for Ron's getting the roast beef out of the Crock-Pot and onto a serving platter.

Before everyone comes in to dinner, Fred and I took some additional pictures of the table, and you can click on the thumbnail images below to have a look at them:




Nancy and Karl arrived about five, and Nancy actually helped Prudence get things set up, and about seven-thirty everything was ready and Prudence called us all in to the dining room.

Loading the player...

Dinner at the Ruckmans' House


Ron cooks, but doesn't serve, so Fred was pressed into duty to serve the roast. For no good reason, I made a short movie of his doing so, and you can use the player at right to watch it.

Both Fred and I also took some pictures of everyone at the table, and you can click on the thumbnail images below to have a look at them:




We had a really nice dinner- a home-cooked meal at the Ruckmans'. We've had many, many breakfasts, but this is the first dinner I can remember. Our thanks to the chef and hostess!

Fred's Birthday Breakfast (8/6)

On the morning of Fred's birthday, I came downstairs early. Prudence had told me the previous day that she had some party decorations for Fred, and that I could help her get them set up. Also, Nancy arrived with a great bunch of balloons (including one that sang "Happy Birthday," so we had a lot to set up.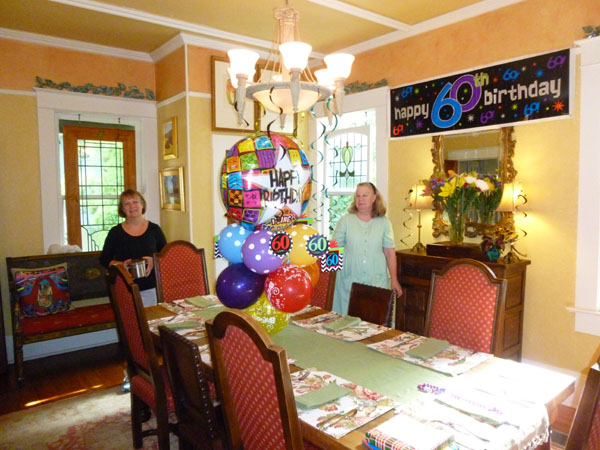 The Party Room is Ready for Fred


Fred usually sleeps until there is some reason for him to get up, and long about ten o'clock that reason was ready, so I went up to find him already ready to come downstairs.

Fred, I think, was surprised at all the decorations that Prudence and Nancy supplied, and I thought we did up the dining room quite nicely. Since they were such old friends, I wanted a nice picture of Prudence and Fred, which I got, and I also wanted a solo picture of Fred and his balloons.

Fred had me use his camera to get a couple of pictures with the group (Ron was busy in the kitchen getting one of his signature breakfasts together) and Fred photographed the decorations. You can click on the thumbnail images below to see some of these pictures:




Prudence and Nancy did a wonderful job with all the decorations (which, incidentally, I saved to be used when we had an early birthday celebration for Prudence at Nancy's house in Grapevine prior to their departure for Europe in late August).

Loading the player...

Singing Balloons


As I mentioned, one of the balloons Nancy got actually sang "Happy Birthday" when it was tapped in a certain place (using technology just like those greeting cards with sound), and so I had to make a movie. You can use the player at right to watch it.


As for the pictures, we took quite a few of them, and I'll include the best of them here.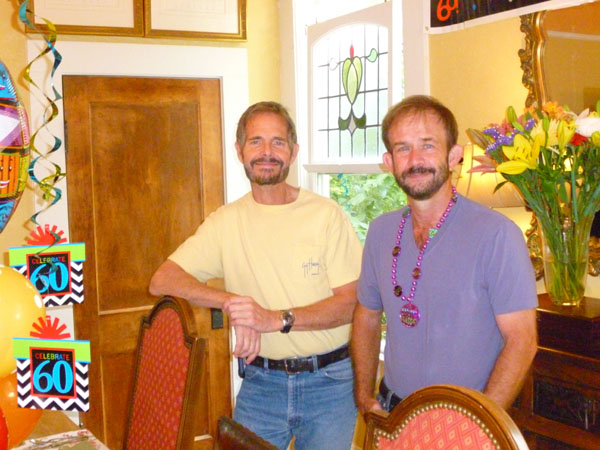 Fred and I on His 60th


I took quite few pictures in the dining room before breakfast, and had Guy take some as well. Everyone save Ron was in there at one time or another. I even got a nice picture of Karl.

It was actually kind of tough to winnow the pictures down, but I have a selection of eight for you to see. Click on the thumbnail images below to have a look at them:




Ron had breakfast ready for us about eleven, so Prudence and Nancy got the table ready while the rest of us brought our little gifts and cards down to the dining room.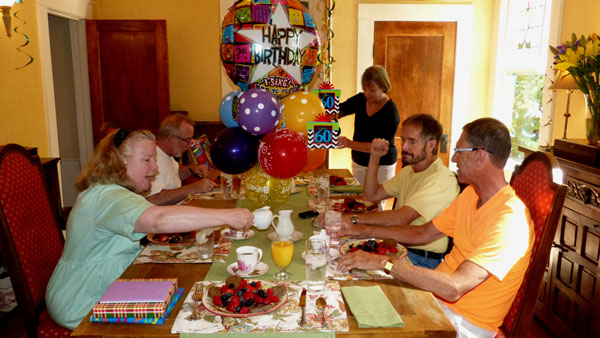 Fred's Birthday Breakfast


Ron's selection for Fred's birthday breakfast was one of his signature breakfasts from the B&B; this one was a large waffle, piled high with fresh fruit, along with sausage and real, honest-to-god maple syrup. It is one Fred's favorites (and Nancy's too), and it tastes just as delicious as it looks.

We had a great breakfast, and Fred opened his small gifts while we passed around all the funny cards he received. I took just a few pictures, including one, finally, with Ron Ruckman in it. Click on the thumbnail images below to have a look at them:




Guy's Apartment (8/6)

As I've said, Guy has moved in to rent the garage apartment from Prudence and Ron. They have moved all the furniture that was in it over to the main house, save for the bed that Guy is using. Guy has brought some of his own things from South Dakota, and has acquired a couple of new things as well. He wanted Fred and I to see what he had done and take some pictures for him.

For some artwork that he was going to be doing, he wanted Fred and I take some pictures of the planter boxes that hang over the edge of his balcony, and we were happy to oblige.


You can click on the thumbnail images at left to see the pictures I took, and on those below to see Fred's:

Guy also wanted us to photograph a new antique piece that he found in San Antonio- a very old locking armoire. I don't think it was actually for clothes, but rather for papers or other valuables. I took two pictures of the piece for Guy, and you can have a look at them here and here.

While we were here in the apartment, we thought that we'd take some other pictures so Guy will be able to recall how it looked shortly after he moved in. It was quite a contrast to the way Ron and Prudence had it arranged. For one thing, Guy doesn't watch much television, so the big flat screen that used to be on the wall has been replaced by the armoire and a piece of art. (Ron has taken that television down to his basement humidor.)

Loading the player...

A Tour of Guy's Apartment


While Fred took still shots, I made a movie, and you can use the player at left to watch it (sorry for the focus in spots; I'm not exactly sure what happened).

Click on the thumbnail images below to see the still pictures that Fred took:




Fred's Birthday Dinner (8/6)

This evening, it was my turn to return Prudence and Ron's constant favors and take the group out for Fred's birthday dinner.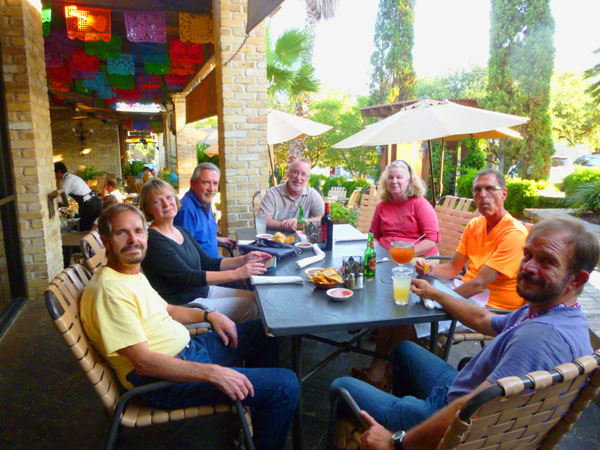 Fred's Birthday Dinner


Like me, Fred enjoys simpler food, and Tex-Mex in particular. So I asked Ron to make reservations for us outside on the patio at Paloma Blanca, which is over on Broadway near the museums. It is the place Ron and Prudence like to go when they are in the mood for Mexican food, and Fred and I have enjoyed it every time we have been there.

Ron and Prudence usually don't like it when anyone else tries to pick up a check at dinner, but they knew this was a special occasion, and they were more than gracious in allowing me to give Fred this gift. All seven of us were there, and I had our server use my camera to take the picture at left.

It was a very enjoyable dinner experience, as it always is at that restaurant.


Birthday Cake at the Ruckmans (8/6)

I'd told everyone but Fred ahead of time that I would have dessert waiting at home, and when we returned there, Fred's birthday concluded with birthday cake.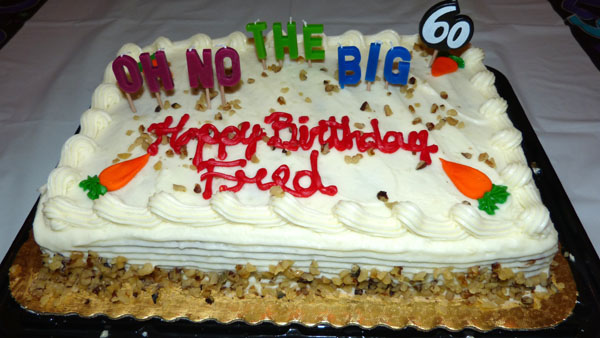 Fred's Birthday Cake


Once again, I have to thank Prudence for getting the special candles for Fred's carrot cake birthday cake. They looked great.

Before we got on with the cake cutting, I wanted one picture of Fred, his cake and his balloons. We were about to cut into the cake when Nancy suggested that she take a picture of Fred and I, so we did that, too.

Then Fred began cutting and serving his cake.


As the final picture of the evening (and of the trip), I made a movie of Fred serving his cake, and if you wish, you can use the player below to watch it.

Loading the player...

Fred Cuts and Serve His Birthday Cake

We had a great time with Ron and Prudence, Nancy and Karl, and Guy, and I thank all of them for helping us celebrate this milestone for Fred. It was totally appropriate that they were the ones to do so this year.

You can use the links below to continue to another photo album page.

---
| | |
| --- | --- |
| | July 28, 2014: A Visit to the Dallas Arboretum |
| | Return to the Index for 2014 |