| | |
| --- | --- |
| | October 24-25, 2014: A Visit to My Sister in Elon, NC |
| | August 4-7, 2014: A Visit to Ron and Prudence in San Antonio |
| | Return to the Index for 2014 |
---
October 10-24, 2014
A Trip to Fort Lauderdale




Fred and I have come down to Florida again this October, but this trip will be a bit unlike any we have taken down here in recent memory. My 50th high school reunion is being held up in Charlotte, NC, on the 24th and 25th of this month, and so we have planned to drive from here to Charlotte, attend the reunion, and then drive home to Dallas from there. As it turned out, we would actually drive to visit my sister in Elon before the reunion, see Ted in Charlotte during the reunion weekend, and, finally, stop in Atlanta on our way home to visit my niece, Jeffie.

This album page will have to do only with our trip to and stay in Fort Lauderdale. Subsequent pages will deal with our visit with my sister, the reunion, our visit with Ted and our visit with Jeffie.

Getting to Florida

We left Dallas on Friday, October 10th, so that we could be back in Dallas on the 26th or 27th. Fred needed to visit his mother between the time we returned and the time we were to leave for our trip to South America on November 6th and also check on his own place and do his packing for that upcoming trip.


Once again, we brought Zack with us to Florida- his eighth trip, I believe. We followed exactly the same route and adhered to pretty much the same schedule as we have done so many times before. We took I-20 east to Shreveport, I-49 south to Layfayette and our first stop for gas, I-10 east to Baton Rouge, I-12 east to Slidell, LA, I-10 east to Pensacola, FL for dinner and our second gas stop and then I-10 east to where we would stay for the night. In a small departure, we decided to stay the night in Tallahassee, FL, rather than drive another 60 miles to our usual stop in Madison, FL. As it turned out, the motel we chose in Tallahassee- a Super 8 like the one in Madison- was probably the worst hotel of that chain that we had ever occupied. We won't be staying there again.

This being Fall, it was getting darker earlier, and by the time we were crossing southern Alabama, it was quite dark. A beautiful moon came up ahead of us, and Fred tried to take the best picture of it he could- considering it was through the windshield of a moving car. You can see that picture here.

On Sunday, we took I-10 towards Jacksonville, stopping just a few miles west of the city for gas again. For our final run to Fort Lauderdale, we took I-295 around the southwest side of Jacksonville to hook up with I-95 south towards Miami. Three hundred miles later, we got off on Broward Blvd. and took that east to get to the condo, pulling in to the condo parking area about four.


We unloaded everything, got Zack situated, set up both laptops and then made our traditional arrival frozen drink and sat down by the dock. Dinner at The Floridian completed our by now routine trip down here. As has been true for some time now, we did not take very many pictures (having been here so often that we have photographed just about everything we usually do multiple times). We did take some pictures that I want to include here, but I'll just create some sections for them below, and not care much about exactly what day they were taken.

Around the Condo

Actually, we didn't take all that many pictures around the condo that didn't involve Zack in some way. I have used some of the pictures we took as material for the Pets page for this year, but I also want to include some of them here.


But of course, Zack is so photogenic that we do take lots of pictures of him. He is usually keeping us company in one of three places- hanging off an arm of the sofa, in the third chair at our laptop table, or stretched out between our laptops, with his head sticking through towards the window.

You can click on the thumbnail images below to see some more pictures of Zack that we took while we were here this time:




It is always a pleasure to bring Zack down with us, and this trip was no exception.

Boat Traffic on the New River

As we do on each and every trip down here, we photographed boats passing the condo. Big boats. Small boats. Private boats. Commercial boats. The variety is endless.


Lots of the boats that go up and down are commercial, like the Jungle Queen (left) that makes four trips a day giving tourists a ride up and down the river. We always know it is coming from its distinctive horn.

As for the other boats, there is the water taxi, of course, that comes by every half hour or so, and of course many, many private boats. There really isn't much to say about each individual picture, but there is always a collection of them on these Florida trip pages. If you want to see a selection of this trip's boats, just click on the thumbnail images below:




Fred is usually the one who spots an interesting boat, for his view sitting at our window table is out to the river.

Leroy and Rick Pay Us a Visit

Ron Drew's former partner, Leroy, and his current partner, Rick, live up in Okeechobee, FL, about two hours from Fort Lauderdale. They like to come down to the big city occasionally to visit with Ron and Jay, and it is always nice when one of their visit corresponds to one of ours.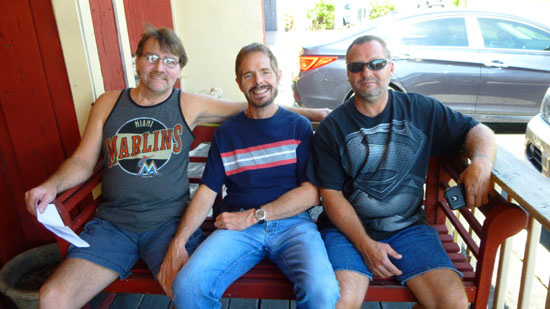 Leroy, Myself and Rick at Catfish Dewey's


Rick and Leroy like a restaurant called Catfish Dewey's, which is up on Andrews Avenue between our condo and Ron and Jay's house, so we met them there first. While we were waiting for Ron and Jay to arrive, we took a couple of pictures outside, including the one at left and another, similar picture of Leroy, Fred and Rick.

We had a nice lunch with Ron and Jay when they arrived; afterwards, we invited all four of them down to the condo. Ron and Jay had much they needed to do, so just Rick and Leroy came down to the condo with us.

The Las Olas Art Fair was going on this weekend, so we walked with Leroy and Rick over to Las Olas so we could walk through the fair with them. While at the fair, we took a couple of pictures of Leroy and Rick- one with me and one with Fred. At the fair, we stopped by the booth of our friend, Doug Fountain, who does wall art with a southwestern theme, using real feathers and gourds.


We returned to the condo, and I whipped up a small batch of frozen margaritas, and we took them down to the dock to sit for a while in the afternoon sunshine. Fred and I think that Rick and Leroy enjoyed the afternoon At the fair, we stopped by the booth of our friend, at the dock, and some later texts from the two of them confirmed that. We will have to try to arrange to do the same thing again on our next trip down in December.

Riverview Gardens Gets a New Palm Tree

Various cities and towns in Florida have regulations involving palm trees; being such a symbol of Florida, in most places it is against city ordinance to simply take them out, and in some places, if they die or are destroyed naturally, property owners are asked to replace them. Here at Riverview Gardens, we have a row of them along the dock, and one of them either died or was otherwise destroyed or removed sometime during the summer, and today, the tree people have come to replace it.


We first noticed what was going on when the landscaping truck pulled up with a half-grown palm tree in its bed. (There are numerous places in South Florida that grow the trees so they can be transplanted when they are already twenty feet tall or so.) The crew first went down to the dock to where the old tree had been, and prepared the hole for the new one. In doing that, we had a bit of excitement when they punched through a buried PVC pipe, but it turned out to not be connected to anything and so they just took it out. I made a movie of their preparation progress, and you can use the player at left to watch it.

Then they came back to the truck and manhandled the palm tree out of it, carrying it down the walk to its new home. They got it in the ground and started filling in the hole and adjusting it to vertical, a process that took the better part of an hour. I got a picture during this process of our new palm tree with the Jungle Queen going by in the background.


We Leave for My Sister's House

On Thursday, October 23, we left Fort Lauderdale to drive to my sister's house in Elon. We'll take a look at that trip and our visit with her on the next album page.

You can use the links below to continue to another photo album page.



---
| | |
| --- | --- |
| | October 24-25, 2014: A Visit to My Sister in Elon, NC |
| | August 4-7, 2014: A Visit to Ron and Prudence in San Antonio |
| | Return to the Index for 2014 |