| | |
| --- | --- |
| | November 27, 2015: An Evening at the Symphony |
| | November 15, 2015: A Visit to the Arboretum with Guy |
| | Return to the Index for 2015 |
---
November 26, 2015
Thanksgiving at My House
It has become a Thanksgiving tradition with me to cook a turkey and all the fixings, and I have done so from the first Thanksgiving since I left the Army and went to work in Chicago. While I was traveling and teaching, there were a couple of times that I was out of the country on Thanksgiving, and there have been three or four times when I was at my sister's house in Elon or my Mom's house in Charlotte. But, other than those times, I have cooked a turkey every single year. This year would be no exception.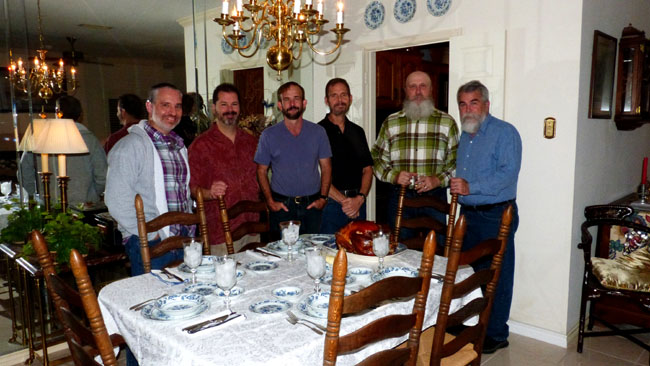 Our Thanksgiving Group


There have been times when I cooked the turkey just for myself- just because I always had one growing up. But early on, I began to follow my Dad's rule that Thanksgiving was a holiday best shared with others, and so I began the practice of inviting friends who might not have families to go to for the holidays. I have done this almost every year that I cooked a turkey, and some years I had as many as nine guests. This year, I will only have four (being many years from thinking of Fred as a "guest").

This evening, our good friends Mario and Steve will be here (and Mario has contributed a vegetable dish), as well as our friends Justin and Gary. With Fred and I that will make a very manageable six. In the picture at left, you can see, from left, Mario, Steve, Fred, myself, Justin and Gary. And of course, the guest of honor, the turkey.


Before our guests arrived, of course, Fred and I had done a lot of work. I did the turkey, spending the afternoon before Thanksgiving cutting, chopping and mixing. Fred, for his part, baked a selection of desserts.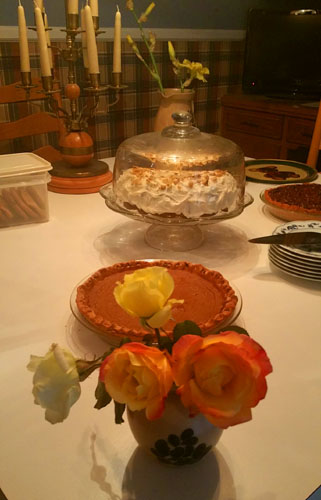 Fred's Desserts


Fred baked two pies- a pumpkin pie and a pecan pie- and also made a bundt cake. We will be well-supplied in the dessert department.

Early this morning, I arose to mix the stuffing ingredients and stuff the turkey. This is quite a procedure, but I have had a lot of practice. I had the turkey in the oven by eight-thirty. I usually have a 24-pound turkey (or as close as I can get), and so it takes eight hours to cook thoroughly. We plan to have supper at about four in the afternoon.

I might mention that our friend Lou dropped by after supper to have dessert with us; he had made prior plans by the time I issued an invitation to him.

During the afternoon and evening, Fred and I took a number of candid shots, all of which are pretty self-explanatory, so just click on the thumbnail images below to have a look at some of them:




We all had a very nice time this evening. I am continually reminded of the wisdom of my Dad's admonition about this holiday.

You can use the links below to continue to another photo album page.



---
| | |
| --- | --- |
| | November 27, 2015: An Evening at the Symphony |
| | November 15, 2015: A Visit to the Arboretum with Guy |
| | Return to the Index for 2015 |