| | |
| --- | --- |
| | May 9-13, 2016: A Trip to Big Bend National Park |
| | April 10, 2016: A Visit to the Dallas Arboretum |
| | Return to the Index for 2016 |
---
April 24, 2016
A Going Away Party for John Evans and Tom Harris
For a few months now, our friend Tom Harris (you have met him frequently on earlier pages) has been talking about what he would do once he retired from working at Southwestern Medical Center. He'd been musing about taking a job offered him by a former boss who had moved to a research firm in Philadelphia, and indeed, he and John had traveled up there to see what the area was like. Well, to make a long story short, he has decided to take that job, and he and John will be leaving Dallas in mid-May. We will be sorry to see them go, for while they might not have been the friends we saw most frequently, we saw them often enough to count them as among our closest.
This afternoon, their neighbors across the street are hosting a "going away party" for them, and Fred and I have been invited. We wouldn't miss this opportunity to say our goodbyes, although we hope we will get another opportunity before their move is completed.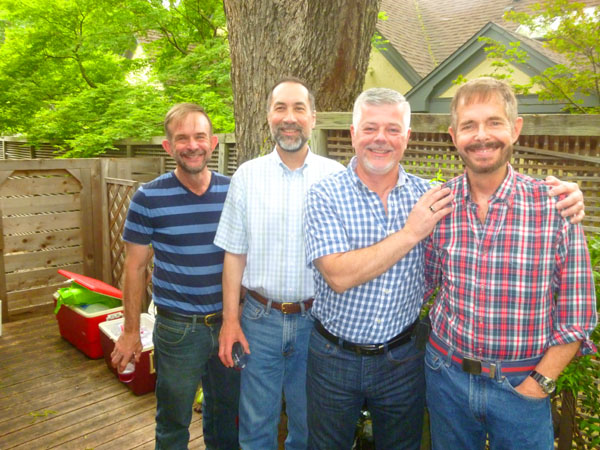 (L-R) Fred, Tom, John and Myself


There were quite a few people at this gathering that I did not know; indeed, the only people there I did know, other than Fred, were Tom, John and our friend Lou. But we did enjoy meeting some of Tom and John's other friends from their neighborhood.

The house was a nice one, newly-renovated, and an ideal house for parties, with an open dining room-kitchen-family room combination, an outdoor deck, and a nice back yard. As you would expect, I did take some candid shots in this big room and outside, and while I might not have a great deal of explanation for them, you can have a look:


(Click Thumbnails to View)
Of course, the guests of honor were Tom and John, and I tried to take as many pictures as I could of them, although from past experience I know that Tom does not like to be photographed.
John's friends had a very chill calico cat, and it seemed to take a liking to me, and I spent quite a bit of time with it. I took quite a few photographs of it, and I got Fred to take a few pictures as well. Here are some of them:
We enjoyed the going away party, except for the fact that Tom and John were, like, going away. But we wish them well in Philadelphia, and perhaps one day we can get up there to visit them.
You can use the links below to continue to another photo album page.
---
| | |
| --- | --- |
| | May 9-13, 2016: A Trip to Big Bend National Park |
| | April 10, 2016: A Visit to the Dallas Arboretum |
| | Return to the Index for 2016 |