| | |
| --- | --- |
| | March 6, 1999: Lowery Evans' Birthday |
| | Return to the Index for 1999 |
---
January 29 - February 7, 1999
Our Winter Trip to Florida


Fred has been with me to the condo in Florida quite a few times now, and this February we are going to go down there again. We'll fly down on Friday evening, January 29th, and return Sunday evening, February 7th. We have also arranged for our friend Guy Blair to join us down there Monday and Tuesday; he will then go visit his parents in Myrtle Beach before returning to Chicago.

The Trip to Fort Lauderdale

As usual, I've gotten us a flight on American for Friday evening, so Fred can come down to my house after work and we can leave for the airport when he arrives. This time, I'll just leave the Honda in long-term parking.


The flight to Fort Lauderdale is one that I (and we) have taken numerous times. Usually, we can find a $199/roundtrip fare. When we can't, the I can use miles to get the tickets.

We left DFW about 7:00PM and, after a two-and-a-half-hour flight, arrived in Fort Lauderdale about 10:30PM. We rented a car at the airport, and by eleven-thirty had arrived at the condo.

We had not had a chance to eat dinner before we got on the flight, so we walked down Las Olas to a favorite restaurant of ours- The Floridian. It is open 24 hours and has a huge menu.

Then we slept late into Saturday morning.


The Fort Lauderdale Condo

If you haven't seen a Florida trip page before, you might be curious as to where our condo is.


To put it succinctly, the condo is located in a complex called Riverview Gardens. It is located on the north side of the New River, which flows east west through downtown Fort Lauderdale, about three blocks south of one of the city's major east-west streets- Broward Boulevard. (Fort Lauderdale is located in Broward County.)

To get to the condo from the airport, one simply exits the airport and follows the signs for US 1 (Federal Highway) north. US 1 is, of course, a major north-south route for the eastern United States, and, before the construction of Interstate 95 (about two miles west of downtown Fort Lauderdale) was the only continuous north-south highway along the Eastern Seaboard. (It actually begins in Key West, Florida, and ends at the Canadian border in Maine.)

Downtown Fort Lauderdale is about three miles north of the airport, and Federal Highway goes through the Kinney Tunnel underneath the river to come up into downtown and intersect Broward Boulevard. Then you simply turn east on Broward and then south on SE 8th Ave. Three blocks south you cross Las Olas Boulevard (Fort Lauderdale's answer to Rodeo Drive) and in one more block you deadend into SE 4th Street. Two blocks east and you arrive at Riverview Gardens.


Riverview Gardens was constructed in the 1950s out of mostly cinderblock (very common in South Florida, as wood would deteriorate far too quickly). It was originally apartments, but was one of the first condominium conversions on the New River- a conversion which occurred in the late 1960s.


As you may know, Grant and I purchased the condo in 1989, so that Grant would have a place in Fort Lauderdale to stay and work on after he had gone on disability from work. He spent two good years working on it and staying there frequently. It was something he enjoyed, and I am happy that he got the chance to spend his last couple of years in the Boating Capital of the World.

One of the best things about the complex is that it is situated right on the New River, where there is constant boat traffic going up and down- particularly on weekends. Upriver, there are thousands of boats docked at private residences and in marinas. There are also six or eight large sites where boats are refurbished or even built. Some of these sites handle boats (yachts) hundreds of feet long, and it is a treat when one of them is towed upriver or down. (Very large boats are usually towed to minimize the chance that a pilot error will cause it to collide with some of the smaller boats docked along the river itself.) Boats less than a hundred feet or so are usually under their own power.

Grant picked our particular unit because, unlike almost all the other one-bedroom units, its living room window looks out onto the New River; ours looks west (upriver). You can see the view from the living room window here. Just outside our unit (which is located on the second floor and occupies the northwest corner of the three-storey complex), there is a walkway, and we are right by the northwest stairs and elevator.

That walkway encircles the second floor; there is a duplicate on third. If the weather is not good, we can still walk down to the river side of the complex and be sheltered. From the walkway, there are also good views upriver and also north and northwest towards downtown Fort Lauderdale. (That view has changed dramatically since we got the condo, and, I can say now, much, much more so in the years since this particular trip. Fort Lauderdale's downtown is now home to ten or twelve highrises of 35 stories or more- about half of them residential, and many of them right by the river- forming a kind of urban canyon through which the many boats pass.)

Where we are, though, the river is lined by large homes, so I doubt that it will become much more developed than it is now. It is nice to be outside downtown, but within only four blocks of it. I don't know many folks at Riverview Gardens; I am here infrequently, and so haven't had the opportunity to get to know most anyone well. The one exception is Jack Fontains, a retired employee of Delta Airlines; he lives in the unit two doors down from me on the west side of the complex.

Click on the thumbnail images below to see some of the pictures we took in and around Riverview Gardens:

Walking Along Fort Lauderdale Beach

Of course, one of the activities we do frequently when we come down here is to walk along the Fort Lauderdale beach. The city has done an excellent job of improving it, and with all the shops, bars, restaurants and hotels along the A1A beachfront it is a busy, interesting place the year-round.


When we go to the beach, we drive, if we are carrying lots of stuff to sit out or play backgammon or whatever, but when we are just out to see the scenery and enjoy the weather, we walk. You can see the route to the beach on the aerial view at left.

From the condo, we just walk along SE 4th Street to the end and then go north one block to Las Olas Boulevard. Las Olas begins in the middle of downtown and goes all the way to the beach. Between US 1 and SE 15th Street, it is a shopping street with a median in the middle along most of its length. There are stores (mostly high-end), restaurants (mostly ditto), art galleries and other shops- many of which cater to the tourists and snowbirds that clog South Florida in "season" (November through April).

A few blocks east of SE 15th, the street goes over a canal and then becomes totally residential until it gets near the beach. This section is called "Las Olas Isles," because long, artificial fingers of land extend north and south from Las Olas. It is on these isles that many of Fort Lauderdale's nicest homes are located. Each home has a dock out back for a boat (some of which are quite large), and each of these isles offers "deepwater access." (What this means in Florida parlance is that there are no "fixed" bridges between your starting point and the open ocean. There may be bridges underneath which your boat won't pass, but these will all be drawbridges, which either open on demand or on schedule.) Thus, there is no limit to the size of the boat you can have in this area.

Las Olas Isles is about a mile wide, and then you come close to the Intracoastal Waterway. The Intracoastal, of course, is that network of waterways, canals and inlets that allows even large boats to go up and down the East Coast without having to go out into the open ocean (although there are inlets and drawbridges every so often that allow access to the sea). The New River, at its eastern end, comes into the Intracoastal. Boats can go a mile south to Everglades Inlet to get to the ocean. (That is the access that the cruise ships use.) One can also go north about six miles to Hillsborough Inlet, passing under five or six drawbridges on the way.)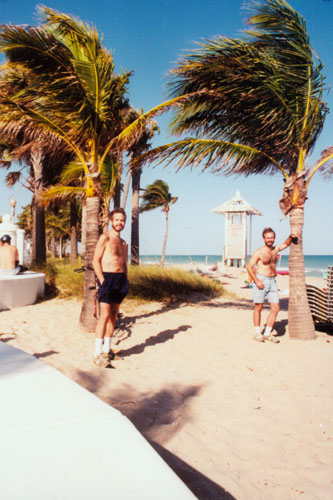 Fort Lauderdale Beach


Las Olas goes over the Intracoastal on a large drawbridge. Sometimes, by chance, when we get to the bridge in a car or on foot, it is going up or coming down, and we have to wait. The cycle takes about ten minutes. When we come off the bridge at its eastern end, we are actually on a barrier island, and it is here that the beachfront condos, hotels and shops are located- in almost an unbroken line north and south all the way from Miami to Palm Beach- about a hundred miles! It is two more short blocks to the beach and to the highway that runs right along it. This highway is known locally as A1A (a short form of Alternate US-1A), and it runs right along the beachfront, again in an almost unbroken route from Miamia to Jacksonville). It is the scenic, albeit much slower, way of going north and south along Florida's east coast. If you want to go somewhat faster, and don't care about scenery, you take US 1, but it is very commercial. The fastest way is I-95, of course; it is a typical interstate highway.


Walking along Fort Lauderdale's beach is always a pleasure. One can either walk along the seawall and just people-watch, or one can take off ones' shoes and walk along the edge of the surf.

Some days, like today, and particularly in the winter, it can be windy, but the sun is usually warm enough so that people still lay out in January and February. Fort Lauderdale does get its cold weather occasionally ("cold" being anything less than about 50°) and every once in a long while, there can be nighttime temps close to freezing. But kind of weather never lasts long, and it is very unusual to need anything more than a sweater or light jacket in the depths of winter.

Today, we walked along the seawall and beach from Las Olas north to Bonnet House- about one and a half miles. We brought the backgammon set with us, and stopped at one point to set it up and play some sitting on the low seawall. The beach was not super crowded (like it is during the summer and at Spring Break), but there were still quite a few people out. The small hotels along the beach stay full most of the year, and there are always Canadian snowbirds for whom 60° is quite warm.



We actually had a couple of nice walks along the beach this trip, and you can click on the thumbnail images below to see some of the pictures we took during our times at the beach:




Throughout our visit this time, the weather was really good, so we were able to go to the beach a number of times.

With Guy Blair on Fort Lauderdale Beach

As I said above, our friend Guy was able to come down and visit with us for a few days of our visit this week, and we enjoyed having him stay with us.


One of the things we did with Guy was to again walk over along the beach. The day was a bit cloudier than our earlier walks, but still very pleasant.

Click on the thumbnail images below to have a look at some of the pictures we took while the three of us were at the beach one afternoon:




We were happy that Guy was just able to relax with us for a few days; we would have been pleased to have him stay the week, but he had to get on to South Carolina.

An Excursion to Universal Studios Orlando

On Friday and Saturday, our friends Ty and Scott asked us if we would like to drive up to Orlando for Thursday and Friday to go to Universal Studios Orlando- a theme park north of Disney World. We thought it would be a fun trip, and so the four of us left early Thursday and returned Friday afternoon.


The easiest way to get to Orlando is to take the Florida Turnpike, so we drove north on I-95 about a hundred miles to the point where the Turnpike crosses it. We take the Turnpike because it is shorter and faster, even though there is a toll of about $5. We got to the Orlando area before lunch, and by noontime were entering Universal Studios park.

The first thing we did was to find a restaurant to have some lunch before walking around this relatively new theme park.


Universal Studios is not nearly so extensive as Disney World, but then Disney World has been there far longer. The whole Orlando area is fast becoming the nation's top family vacation destination- not only for the good weather but also for the proliferation of theme parks and other attractions. Disney World was conceived in the early 1960s as "the Florida Project," and it opened in 1971. Universal Studios Orlando opened over twenty years later, and when we visited, it was only eight years old and considerably smaller than it is now. Unlike Disney World, Universal Studios Florida was designed as a theme park and a working studio.


A major component of the original park in Hollywood is its studio tour, which featured several special-effects exhibits and encounters built into the tour, such as an attack by the great white shark from the film Jaws. For its Florida park, Universal Studios took the concepts of the Hollywood tour scenes and developed them into larger, stand-alone attractions. For example, an attack by the "Jaws" shark was part of a studio tour ride, while in Florida, guests entered a "Jaws" attraction, taking a boat tour of the fictitious Amity Harbor, where they encountered the shark, then exited back into the park.

Over the years, Universal Studios Florida has not limited itself to attractions based on its own vast film library. It has occasionally licensed popular characters from other rival studios, many of whom did not operate theme parks themselves. Some examples include Ghostbusters and Men in Black, (Sony's Columbia Pictures), The Simpsons (20th Century Fox) and Shrek (DreamWorks Animation).

When we attended, many of the current attractions had not yet been built, for the films they would be based on had not yet been made. I recall that some of the major franchises that were represented were "Murder, She Wrote," "Jaws," "King Kong" and "Back to the Future"- in addition to some of those named above. When I went to grab an aerial view of the area of the park we walked through, I discovered just how big it had gotten; the aerial view at right is just a small portion of today's park.

It's hard for me to remember, now, fifteen years later, all the things we did, but I do remember that because it was winter, and late in the afternoon on a Thursday, there were not the crowds that we expected. We didn't have to wait at any of the rides we took.


We took the "Jaws" ride, and had our pictures taken with the eponymous shark, and we walked around the central lagoon where the actual sets for "Jaws" (shown here) and also part of the set for the New England town used for "Murder, She Wrote" were located.

We also did a lot of walking around, and you can click on the thumbnail images below to see some of the pictures we took during the afternoon:




It was a fun afternoon. When we were done, we got a couple of motel rooms nearby, and went out that night to a local bar called The Parliament House. The next day, we did some driving around Orlando before heading back down to Fort Lauderdale.

Our Trip Home

We had a really nice weekend, seeing Ty and Scott a couple of times, before we closed up the condo and took the rental car back to the airport for our Sunday afternoon flight home.


As we came into Dallas in late afternoon, the plane circled across north of downtown to head to DFW, and we got an excellent view looking south from almost directly over Northwest Highway and US 75. You could see just about everything, and I have marked some of the major highways on the picture at left, in case you are familiar with the Dallas area.

Fred got another good picture looking south along US 75 (Central Expressway), and you can see that view here.


We had a really nice week in Florida- the perfect mid-winter trip.

You can use the links below to continue to another photo album page.

---
| | |
| --- | --- |
| | March 6, 1999: Lowery Evans' Birthday |
| | Return to the Index for 1999 |