| | |
| --- | --- |
| | April 4, 1999: A Visit to the Dallas Arboretum |
| | January 29 - February 7, 1999: A Trip to Florida |
| | Return to the Index for 1999 |
---
March 6, 1999
Birthday Party for Lowery Evans


This weekend, Ron Drew is hosting a birthday party for his partner, Lowery Evans, at their house in Hackberry Creek out in Irving. Fred and I will be going, as will Prudence and her sister Nancy, my own mother, and our friend Mike Racke. As a surprise, our friend from Florida, Brent Whitley, has flown to Dallas not just for this gathering, but to see Mike, with whom he has become friends since they met a year ago. Brent wanted to surprise Mike, so he came to our house early on Saturday morning from Fort Lauderdale. We will host him until the party this evening.

We Take Brent to the Dallas Arboretum

Since we would have Brent for the day, we thought that we would take him out to the Dallas Arboretum, so we had a bit of lunch and then went out there.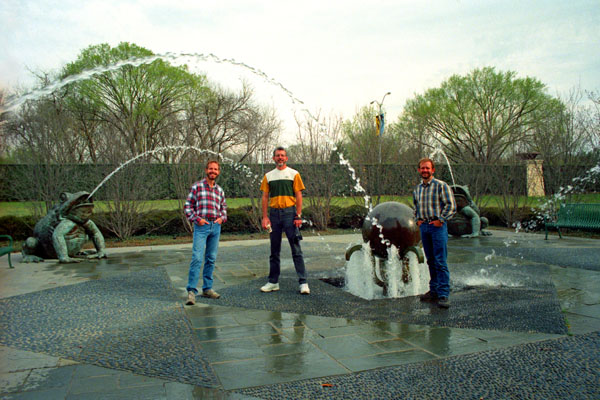 Myself, Brent and Fred at the Arboretum


Brent had never been to the Arboretum before, so we thought that since "Dallas Blooms," was currently underway, it would be a good time to visit. We did not make an exhaustive tour of the gardens; if we had, I might add a diagram of the gardens and mark our route (as I have done on other album pages where we did walk through the entire garden).

The picture at left was taken at the Toad Fountain, which as at the southeastern side of the garden, right next to Garland Road. It is a popular spot- particularly with kids- and it is at one end of the Crepe Myrtle Allee. If you want to have a look at the other pictures that we took today at the Arboretum with Brent, just click on the thumbnail images below:




Lowery's Birthday Party

Around four-thirty, the three of us headed out to Ron and Lowery's house in Hackberry Creek for his birthday celebration.

Getting out to Lowery and Ron's house is pretty easy. We just go alongside Love Field on Lemmon Avenue and then get on Northwest Highway heading out west. This eventually dumps us onto TX 114, and we take the exit onto the frontage road just past Beltline. From the frontage road, we can go through the southwest gate into Hackberry Creek (it is a gated community). This puts us on Summitview, which is the street that their house is on.


Lowery and Ron have a very nice house out in Hackberry Creek, and they have lived there for about three years. Previously, Lowery and Ron had lived some miles south in Grand Prairie (and before that, Lowery had lived by himself in Garland, near his mother). When Ron and Lowery got together, this increased their combined financial power, and so they were able to move to a nicer place closer to Ron's work (and not inconvenient for Lowery).

Ron has always been security conscious; at one point they looked at a high-rise condo up the Tollway from me, but the area was too congested at rush hour, and it would have been inconvenient for both of them. So they got the house in Hackberry Creek, a secure, gated community just between TX 114 and I-635 in a very nice area of Irving. The house has three bedrooms and a study, and is laid out very nicely. When they lived there, it had a small back yard, where Lowery could indulge his interest in horticulture; he and Fred always got along quite well sharing that interest. I notice, however, in grabbing the aerial view at right, that in the 14 years since they moved to Florida (see the page later this year) some subsequent owner has put in a pool.


I have actually spent a good deal of time in their house. For the last couple of years, I've been going out to their house after work on Wednesdays to have dinner with them and visit. I always liked doing that, and we had kind of a routine on eating and watching a few of their favorite TV shows. There were times when I was traveling, or Ron was, or his work or Lowery's got in the way, but at least two or three times a month we got to get together.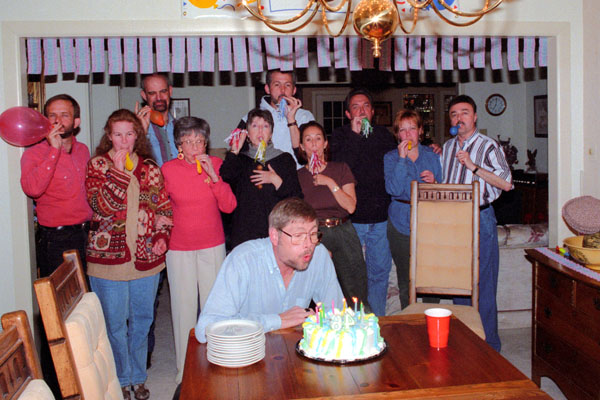 The Gang at Lowery's


This party was a relatively small group. We had Lowery and Ron, of course, and Fred and I, and also Nancy Lucas, Prudence Lucas and Ron Ruckman, Larry Marshall, Lynne Richardson and her friend Carol, Mike Racke and Brent Whitley. (I am not sure why Mike is missing from the picture at left, but can see him here, seated on the couch with Brent Whitley.)

We had a really good time (and a delicious dinner as well). You can click on the thumbnail images below to see some of the other pictures that we took during the evening:




We didn't know it at the time, but this would turn out to be the last of Lowery's (or of Ron Drew's, for that matter) birthdays that out group would celebrate here in Dallas. But more on that later.

You can use the links below to continue to another photo album page.

---
| | |
| --- | --- |
| | April 4, 1999: A Visit to the Dallas Arboretum |
| | January 29 - February 7, 1999: A Trip to Florida |
| | Return to the Index for 1999 |