| | |
| --- | --- |
| | May 8, 1999: Lowery and Ron Leave for Florida |
| | April 4, 1999: A Visit to the Dallas Arboretum |
| | Return to the Index for 1999 |
---
April 24, 1999
Lowery and Ron's Anniversary

I am not positive which anniversary it will be this year for Lowery Evans and Ron Drew, but according to my photos, it is at least the sixth. (Fred and I have been together just one year longer.) I have asked Lowery and Ron if I could host an anniversary party for them, and they have agreed, so we have gathered at my house this evening for the festivities.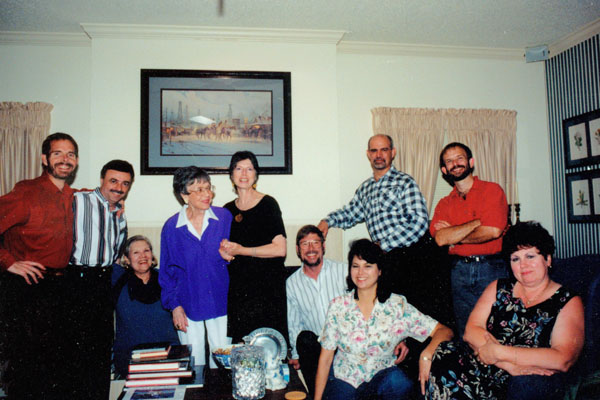 The Group at Lowery & Ron's Anniversary


As is usual at these gatherings, Fred brought his tripod and we have taken a group shot of everyone. Attending the anniversary party were (L-R): myself, Ron Drew, Barbara Reynolds, my mom, Lynne Richardson, Lowery, Lowery's niece Cheryl, our good friend Larry Marshall, Fred and Lowery's sister Jan (Cheryl's mother).

I served dinner, and then Lowery and Ron opened some anniversary gifts. Click on the thumbnail images below to see the other candid pictures that Fred and I took this evening:




It was an enjoyable gathering, but also a somewhat sad one, for Ron and Lowery had told us some weeks before that Ron, in order to secure his retirement with GTE, was going to accept a position with them in Tampa, Florida and, in a month or so, he and Lowery would be moving there. More about that later.

You can use the links below to continue to another photo album page.

---
| | |
| --- | --- |
| | May 8, 1999: Lowery and Ron Leave for Florida |
| | April 4, 1999: A Visit to the Dallas Arboretum |
| | Return to the Index for 1999 |