| | |
| --- | --- |
| | May 15-16, 1999: A Weekend in New Hampshire |
| | April 24, 1999: Lowery and Ron's Anniversary |
| | Return to the Index for 1999 |
---
May 8, 1999
Lowery and Ron Leave for Florida

As I mentioned on the last album page- the one for Lowery and Ron's anniversary party- we have known for some time that there was a distinct possibility that, to secure the best retirement possible, Ron would probably have to transfer to a different GTE office, and the two in contention are New York City and Tampa, Florida. Lowery and Ron have been on familiarization trips to both places, and while NYC offers a slightly better opportunity, it would have been very, very hard on Lowery to live there. So, a couple of months ago, they decided on Tampa, and have set a move date for mid-May. I have organized a going-away party for them at my house this evening, and have invited just about everyone that they, and I, know.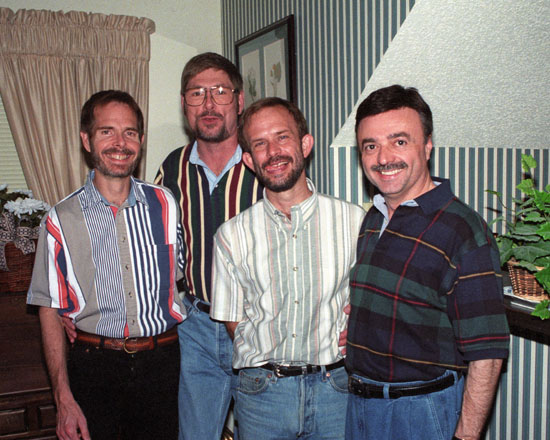 Myself, Lowery, Fred and Ron


We all gathered at my house about six. Fred had helped me get ready all day long, and I have prepared a dinner for everyone. The gathering was a chance for all of Ron and Lowery's friends to bid them farewell. Some of us might see them in Florida, but for most of the folks who came, this would be goodbye.

All the pictures we took this evening were candid shots; for some reason, neither Fred nor I had the presence of mind to gather everyone together in a single picture. (It would have been difficult in any case as so many people came.) So I think the best thing to do is let the pictures speak for themselves. For each picture, there will be a thumbnail imaage you can click on to see the full-size image. Underneath each thumbnail will be a short picture description. So have a look at the pictures from the last gathering that Lowery and Ron will attend at my house:




After we had some cocktails, everyone got some dinner, and sat all throughout the house to eat. After supper, the smokers retired to the patio for a while.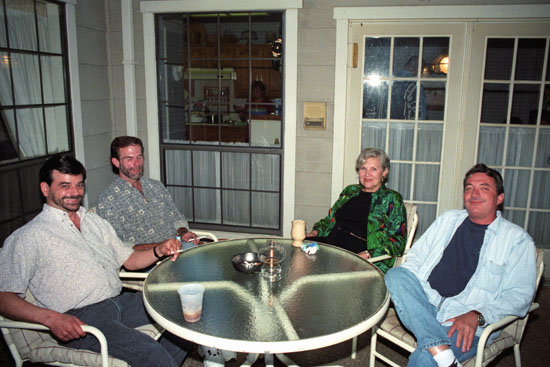 Ron Mathis, Chris, Barbara and Ron Ruckman


The dinner went very well, and I think that Lowery and Ron appreciated the opportunity to see so many of their friends, and bring them all up-to-date on what their plans would be for the move. They also had the chance to describe the house that they have found in Brandon, Florida, a suburb of Tampa. It is going to be on a quiet street that backs up onto protected farmland and natural area. I hope to get down to see it quite soon.

Click on the thumbnail images below to see some pictures we took before and during dinner:




One of the things I wanted to do was to get as many pictures as I could with Lowery and Ron and each of their individual friends or couples. I wanted to not only send copies to them for their own albums, but also give copies to the individuals as a remembrance. It took me some time to accomplish that, but I did. In the two sets of images below, you can click on each thumbnail to see the full-size picture that we took:

It was, I think, a particularly nice gathering among so many that we have had in the last ten years. We will all be sorry to have Ron and Lowery so far away, but since they are just three hours from Fort Lauderdale, I hope that Fred and I, at least, can see them at least once a year.

You can use the links below to continue to another photo album page.

---
| | |
| --- | --- |
| | May 15-16, 1999: A Weekend in New Hampshire |
| | April 24, 1999: Lowery and Ron's Anniversary |
| | Return to the Index for 1999 |