| | |
| --- | --- |
| | June 12, 1999: I Visit Lowery and Ron in Florida |
| | May 15-16, 1999: A Weekend in New Hampshire |
| | Return to the Index for 1999 |
---
May 18, 1999
A Visit With Jack Fontaine in MA


You have probably heard the name "Jack Fontaine" before in this album, in conjunction with our trips down to Florida. Jack is a "snowbird," which is to say that he travels to Florida sometime in the fall to spend the winter, coming back north in the spring. We have seen him a number of times in Florida, for he lives in the Riverview Gardens complex with me. But this is May, and he has returned to Beverly, Massachusetts for the summer, and on Tuesday night, while I was working at Paymentech, we made plans to get together.

On the aerial view above, you can see the route that Jack suggested for me on the telephone. I came down from New Hampshire on I-93, and swung onto I-95 headed north. After a few miles, I stayed on Route 128- the technology corridor around the city of Boston. After a few more miles, I got off on a major street heading east towards Beverly Harbor. Just at the shore, I tunred south on Maple Avenue.


Jack lives in a row of relatively new condominiums just a block or so inland from Beverly Harbor- pretty much right on the water. About the only thing between him and the harbor is a boatyard, but when you get on his balcony on the second floor and look out, you can see past the boats to the harbor.

When I got there, Jack met me downstairs at his front door and took me upstairs to his unit. The building is actually three stories tall, and is arranged so that parking is on the ground floor and then there are two apartments above that. Each of the four buildings is laid out the same; there is a vestibule with an elevator that serves four condos- two on the second floor and two on the third. In the vestibule is a door into a garage on either side; each condo has a single parking space in what is, in effect, a two-car garage.


We actually drove to dinner right away, as I didn't get to Jack's place until after six-thirty. We ate, as I recall, at a Victoria Station (a restaurant chain that I have patronized a larger percentage of than even Baskin-Robbins). (As I write this in 2014, the chain, one of my favorites in the 1970s and 1980s, has now almost disappeared. I think there are just a couple left; its the restaurant that you might have seen that is inside a group of connected boxcars- hence the railroad theme.) Then we returned to his condo.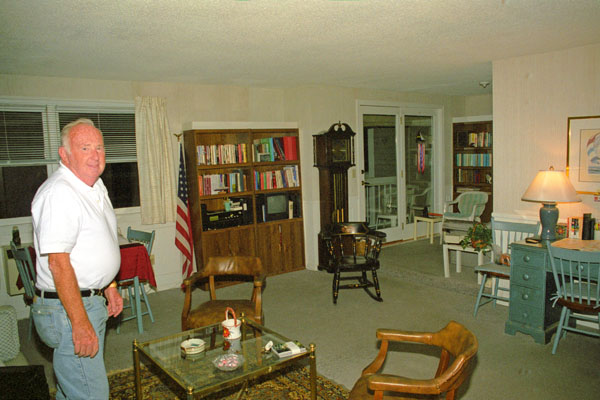 Inside Jack's Condo


Actually, when we returned, there was still some light, so we looked around his neighborhood for a bit and also went out on his balcony for a couple of pictures. Click on the thumbnail images below for some views from Jack's condo:

Then we chatted for an hour or so inside his condo, which I thought was pretty nice. It was a two-bedroom unit, although in Florida his unit only has one bedroom. He let me take a couple of pictures inside, and you can click on the thumbnails below to have a look at them:

It was nice evening, and I left to return to New Hampshire about nine-thirty. I'd heard Jack talk about his place in Beverly a number of times when we were with him in Florida, and it was nice to finally get to see it.

(NOTE: I believe it was sometime around 2003-2004 that Jack sold his Beverly condo and moved to Florida to live full-time.

You can use the links below to continue to another photo album page.

---
| | |
| --- | --- |
| | June 12, 1999: I Visit Lowery and Ron in Florida |
| | May 15-16, 1999: A Weekend in New Hampshire |
| | Return to the Index for 1999 |