| | |
| --- | --- |
| | July 11-18, 1999: Our Summer Trip to California |
| | June 12-14, 1999: I Visit Lowery and Ron in Florida |
| | Return to the Index for 1999 |
---
June 19-25, 1999
My Sister Judy Visits Dallas


Sometimes I feel bad for influencing Mom to move to Dallas. Sure, she is closer to me and I can do more for her, but on the other hand she is farther from my sister and nephew. My sister lives a hundred miles from Charlotte, so doing much for Mom day-to-day is not really an option, so from that point of view it is better for Mom. But at least Judy could drive down for the day if she wanted to spend some time with her mother, whereas now she has to drive or fly over a thousand miles to see her.

At Mom's Condo

My sister arrived on the 19th and stayed for five days- quite a long time for her as she has lots of animals that have to be taken care of in her absence. But she arranged all that and was able to have a good visit with her Mom, me, her daughter Jeffie and, of course, Fred.


The condo I got for Mom in 1996 is over by Central Expressway about three miles from me. I would have tried to get her closer to where I live, but she needed to be close to services so she could walk to them. The High Hollows Condominiums happen to be located just behind a strip center right along Central Expressway, and that center has all the services Mom needs- even a Baylor Healthcare satellite medical office. It is particularly good that the center has a large Tom Thumb grocery store.


Getting to my Mom's condo, all my sister and I have to do is follow the Dallas grid by heading north on Inwood, east on Walnut Hill, north on Hillcrest and east on Meadow. The gated community of High Hollows is just to our left a block before Meadow Road meets the expressway.


The community itself is a nice one, and the condos are spacious and well-laid-out. I'll admit that I had some difficulties with her particular unit soon after I bought it. Even though we had a home inspection prior to the purchase, my problems with water followed me there. At one point there was a leak in the washer-dryer in the condo next to hers that came under the dividing wall and caused a bit of damage to her carpet. The A/C unit chose a year after she moved in to give up the ghost, and I had to have Randy (my own A/C guy) replace it. This was after a clog happened in the condensation line for her unit, and the air handler happened to be up above her master bedroom closet. Water came dripping through the ceiling, and Randy had to replace the piping and install an automatic shut-off. Then we had to have the ceiling repaired and the carpet and some clothes cleaned.

The fourth problem occurred not in Mom's unit, but in the unit above her, when a plumbing problem caused water to leak down inside one of the interior walls in the guest bedroom. To fix the plumbing problem they had to get at it through my Mom's guest room wall, so the insurance of her upstairs neighbor paid for most of the damage and repair.

Other than that, Mom seems to have been quite happy in her condo, although both she and I are beginning to think that the hassles of having your own place may be getting too much for us to deal with; Mom may want to move in a year or so to more of a retirement place, where she doesn't have to worry about home ownership and where there will be lots of other folks for her to interact with. But we shall see.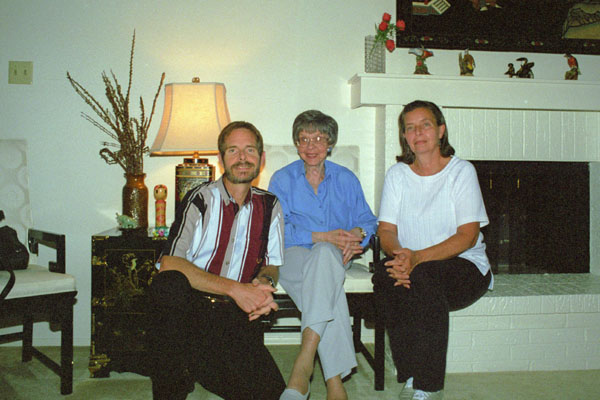 Myself, My Mom and Judy


Of course, we spent a lot of time with my Mom- at her condo, taking her out to eat, bringing her to my house, and taking her out to see Jeffie and her horse. But, as it turned out, all the pictures we took (with Mom, anyway) were at her condom (on one of our many visits with Jeffie). One of these is at left, and you can click on the thumbnail images below to see the others:




I know that my Mom enjoyed seeing her daughter, and it is nice that Judy takes the time to come all the way out here a couple of times each year. I know that for her to get away is a hassle, but her daughter, her Mom and I all appreciate it when she visits.

A Girl and Her Horse

Jeffie has been here in Dallas for a while now, working in the music industry for Wal-Mart and BMG Music. Of course, she has her horse, Logan, here with her, and has kept him at a couple of different stables so far. I think that the pictures we took of her and him on this occasion were when she was keeping him at a small stable off Walnut Hill Lane east of Central Expressway.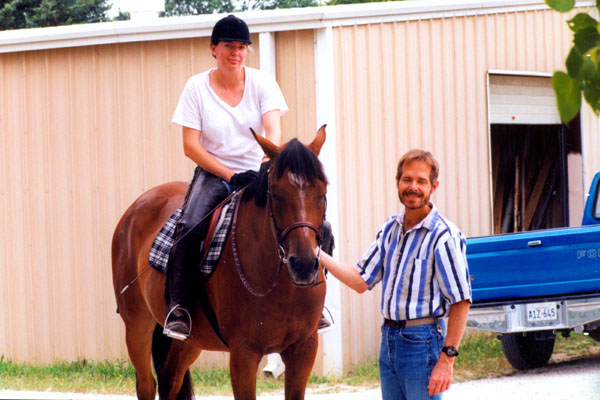 Jeffie, Logan and Myself


It was fun watching Jeffie exercise her horse, and of course horse ownership is something that she and her Mother have in common. When they get together, they are in their own horse world, and I can just stand back and listen to the conversation and admire the way Jeffie can control her horse.

Fred and I just occupied ourselves taking pictures, although at one point Jeffie got me up astride Logan so Fred could get a picture.

You can click on the thumbnail images below to see some of the pictures we took of Jeffie and Logan:




It was nice to see my sister achieve her two major objectives in making the trip out here- to see her daughter and her Mom. We took some additional pictures today, and you can click on the thumbnail images below to have a look at them:

Having Judy here for the better part of a week was really a treat, and having talked with both Mom and Jeffie about it, they enjoyed her visit immensely, and hope that she will continue to visit as often as she can.

You can use the links below to continue to another photo album page.

---
| | |
| --- | --- |
| | July 11-18, 1999: Our Summer Trip to California |
| | June 12-14, 1999: I Visit Lowery and Ron in Florida |
| | Return to the Index for 1999 |