| | |
| --- | --- |
| | September 9-21, 2008: Fall Trip to New England |
| | August 24-27, 2008: A Trip to San Antonio (Prudence's Birthday) |
| | Return to Index for 2008 |
---
September 5, 2008
Celebrating
Steve Friedman's Birthday




Getting to Mario and Steve's House


If you've been through this album linearly, then you've already met Steve and Mario. If you haven't, then you should know that we've known Mario (who is a music critic at the Dallas Morning News) and Steve (who is a respiratory therapist) for more than a year now, and we do a lot of stuff with them.

From the illustrative map at left, you can see where Mario and Steve live, relative to us and to the city itself. I have also marked one of the common routes to get from my house to theirs. They live in northeast Dallas, in an area known as Lake Highlands, because it occupies the high ground northeast of White Rock Lake. They are in a very nice neighborhood just east of Audelia Road and just south of Walnut Hill Lane.

There are two or three easy routes to take to get to their house, which is about a fifteen-minute trip (except at rush hour). We can take Northwest Highway (a mile and a half north of me) across town, but that route is especially crowded sometimes. Or we can go another mile north and use Walnut Hill Lane, which is a lot less commercial and oftentimes faster. Or I can go over to US 75 on Lover's Lane, then take that north to Northwest Highway and then east. This misses most of the commercial stuff as well as Northpark Center.





Here's a closer look at a map of their neighborhood- Lake Highlands. Once you turn onto Crestwick, they are about halfway down the block on the north side of the street.

Mario and Steve have a very nice split-level house with a large back yard that Steve likes to work in. (Or, rather, that Steve likes to plan and hire someone else to work in.)

This is one of the many Dallas neighborhoods where there are alleys behind the houses running through the middle of each block. Some houses have their garage access off the alley, but just a few of them of garage access from the street, and Mario and Steve's house is one such. From their back porch, the yard slopes downward to that alley and the houses on the next street, so they have nice views from the back of their house, particularly from the upstairs bedrooms.

The two-car garage is underneath the bedrooms at the top level of the split level layout. The intermediate level has the dining area, kitchen and living room. Up the half stairs there are three bedrooms and two bathrooms. Steve has one bedroom, Mario another and the third is used as an office/library. Down the stairs from the intermediate level you reach a room that is "behind" the garage, and this is where the house entry is from the garage itself. It is a very small room with a little powder room at the back. Mario uses it for his huge collection of CDs.

Courtesy of Google Street View, here is Mario and Steve's house. (Google has even relieved me of the necessity of taking my own picture of the outside of their house, although I may take some at a later date.)


The Guests

Steve and Mario have met a lot of new people through Fred and I to add to the friends they already had. Here is the guest list:
Fred and myself
Ron Mathis and Jay
Lynne Richardson and her friend Carol
Mario's friend Toni and her friend Mike
Mario and Steve's friend Nancy
Here are thumbnails for some of the candid shots that Fred and I took of various groupings of the various guests; just click on the thumbnail to view the full-size picture:
| | |
| --- | --- |
| Steve, Ron Mathis and myself on a tour of the back yard. | Ron Mathis, Lynne, Steve, Mario and Carol chatting before the other guests arrived. |
| Lynne, Steve and Carol on their own tour of the back yard. | From the left, Steve, Lynne, Mario and Carol talk to new arrivals Toni and Mike. Toni used to work at the Dallas Morning News with Mario, but she took a buyout some years ago and is now free-lancing. Mike works for an HVAC firm. |
| Steve, Nancy and Mario. Nancy still works for the Dallas Morning News as an editor. | Carol and Lynne chat with Jay Enriquez, Ron Mathis' partner. |
Dinner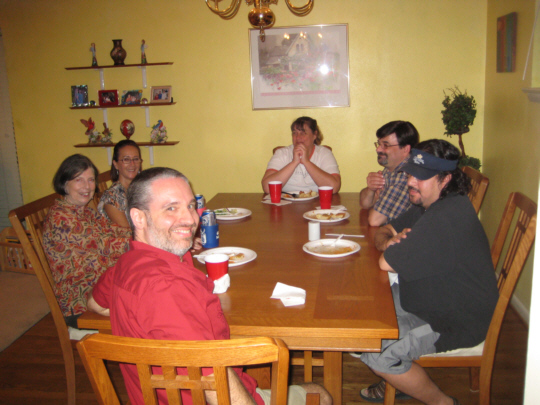 At The Dinner Table:
Clockwise from left are Lynne, Carol, Nancy, Ron Mathis, Jay and Mario


Mario, Steve, Fred and I put the actual dinner together.

First off, Mario and Steve laid out a selection of hors d'oeuvres which were completed when Jay brought some of his guacamole and salsa.

There were three main courses- some Swedish Meatballs that I made and brought over, and two pasta dishes (one beef and one chicken) that Steve and Mario put together.

Finally, there were two different salads- one a Caesar Salad and one a regular salad with dressing. There was quite enough food to satisfy everybody, and the candid shot at left shows some of the guests just finishing up.


Having Cake and Opening Cards and Gifts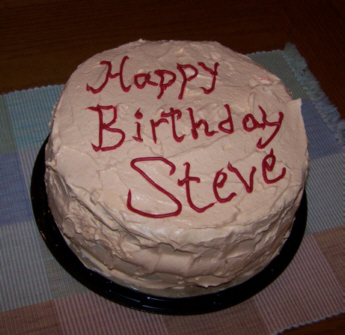 Steve's Birthday Cake


Of course, the real reason for getting together this evening was to celebrate Steve's 43rd birthday, which we did in pretty good style. After dinner was cleared away, Mario brought the cake out to the dining room table, where Fred took the official picture of Steve and his cake. Then, it what is something of a tradition with holiday gatherings that we have, Fred took a number of group pictures of everyone gathered around Steve and his cake. You can look at the best of those pictures here.

Then Steve did the honors as he and Mario cut and served the cake. While people were eating cake and chatting, Fred took some candid shots of the groups; click on the thumbnails below to view the full-size pictures:

Steve received a number of cards and gifts- mostly DVD movies and a book or two. The surprise gift and most unusual gift of this party was given to Steve by Ron and Jay. They had gone on Ebay and, knowing of Steve's fondness of old game shows, found him an original Price is Right game- not the Bob Barker version, but the earlier Bill Cullen version. It is a real collectible, and Steve was very pleased with it.

We all sat around and talked for quite some time until the guests, a few at a time, departed. Fred and I stayed for a while to help Steve and Mario get things cleaned up, and then we, too, took our leave.

Steve and Mario have now met all the friends that Fred and I have brought with us, and so I suspect that their two birthdays will become a regular part of our yearly rituals.
---
| | |
| --- | --- |
| | September 9-21, 2008: Fall Trip to New England |
| | August 24-27, 2008: A Trip to San Antonio (Prudence's Birthday) |
| | Return to Index for 2008 |