| | |
| --- | --- |
| | December 31, 2008: New Year's Eve at Ron and Jay's |
| | December 15-17, 2008: Three Days in Fort Lauderdale |
| | Return to Index for 2008 |
---



December 25, 2008:
Christmas at My House

Between our cruise and Christmas, it was all we could do to get ready for the holiday. I had to go shopping for the biggest turkey I could find (since I did not cook one at Thanksgiving), wrap gifts and clean and decorate the house. We planned to have Steve and Mario, Mario's sister Martika and Lou for most of the day. Greg would drop by late in the afternoon for dessert.


Visiting Before Dinner

Everyone came over right on time, and while dinner was cooking we all had a nice visit. Click on the thumbnail images below to see the pictures we took before dinner: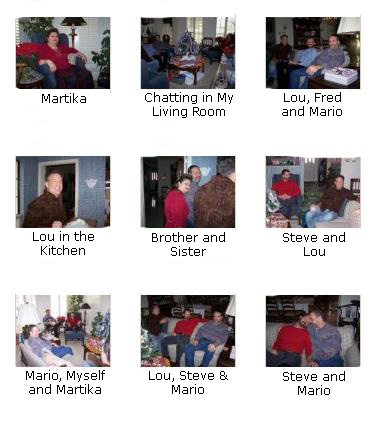 Christmas Dinner

While we were visiting, I was continually checking on the status of the turkey, and when it got close to the end time for its cooking, Fred and I moved into the kitchen to put the finishing touches on the side dishes, get the rolls going and give me time to make the gravy.

About fifteen minutes before dinner, the turkey came out of the oven to rest a bit before being carved at the table. Fred snapped a picture of it in its resting place here. Just for comparison, you might want to look at a picture of the same turkey once we brought it back into the kitchen after dinner, just to gauge the damage we'd done to it; take a look at it here.

Below are thumbnail images for the other pictures that Steve and Fred took during dinner prep and during dinner itself. Click on these images to have a look at the pictures: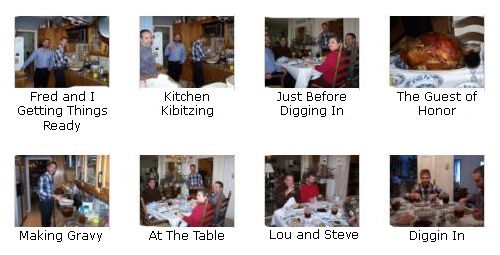 The Gift Ritual and Dessert


After dinner, we moved back to the living room to exchange gifts, and had a good time with them. Greg dropped by to pick up his gift, some art glass that we'd gotten him in McKinney back in the Spring. Below are thumbnail images for the pictures we took this afternoon; click on the images to have a look at them: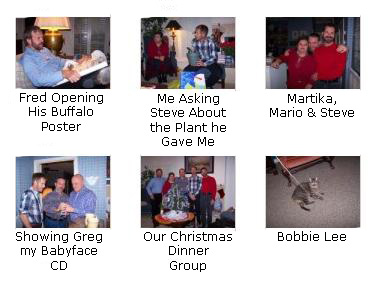 We had a really good Christmas Day with our closest friends.

You can use the links below to move elsewhere through the photograph album.
---
| | |
| --- | --- |
| | December 31, 2008: New Year's Eve at Ron and Jay's |
| | December 15-17, 2008: Three Days in Fort Lauderdale |
| | Return to Index for 2008 |