| | |
| --- | --- |
| | August 22, 2004: Birthday Party for Fred and Ron Mathis |
| | July 31 - August 1, 2004: A Weekend in Florida |
| | Return to Index for 2004 |
---
August 14-15, 2004
A Trip to Ruckman Haus in San Antonio




This is one of the years that Rudolf Lowenstein from England is coming to the United States, and we have been working with him to arrange travel plans so that he can see Father Guy in San Antonio, meet Ron and Prudence, and also meet Frank and Joe. What we worked out was that Rudolf would not stop in Dallas but would fly directly to San Antonio as one of his stops here in America, while Fred and I flew down to San Antonio on Friday evening. Frank and Joe will join us on Saturday afternoon. All of us, except for Guy, of course, would leave San Antonio on Sunday night.




Fred and I had a good flight down after he got down from Van Alstyne and the greenhouses. Ron picked us up at the airport and then he and Prudence, Fred and I and Guy and Rudolf all went out for a late supper, and then back to Ruckman Haus and to bed.




Saturday Breakfast at Ruckman Haus


On Saturday morning, we were all up fairly early. Ron and Prudence only had one actual guest couple other than ourselves, and when I came out of the house I found her setting a table for them in her garden. You can watch a movie of these preparations with the player at left. We chatted for a while and then I went back into the house via the patio, where I could see that the breakfast table had been set for the rest of us.



I went on into the kitchen to find everyone else there, with Ron busy cooking breakfast (a process you can watch with the movie at right). Breakfast was one of Guy's favorites- Ruckman Haus Banana Waffles. When everything was ready, the chef and his guests (from left to right, Guy, Rudolf, Fred, Guy's friend Clay and, of course, Ron Ruckman in the chef's hat) gathered at the table on the patio. I also thought the set table would be a good setting for a picture of Ron and Prudence.



I filmed a movie of all of us as we sat down to eat Ron's great breakfast, and you can watch that movie with the player at left.




A Visit to the San Antonio Botanical Gardens

After breakfast, Guy had to go visit a couple of parishoners and he had a function to perform at the church, so he and Clay left about noon. Ron and Prudence were busy with cleaning up after breakfast and getting another room ready for Frank and Joe, and so that left Rudolf, Fred and I free to take a trip across town to the San Antonio Botanical Garden.

The garden is about four miles from Ruckman Haus; Fred and I had been there before so we were able to borrow Ron's SUV and we got there without any problem. We made three stops in the gardens where we took pictures, and these are the numbered red stars on the diagram at left, below. At right, below, is an aerial view of the botanical gardens taken from Google Maps. I include it here as a matter of interest, and you can transpose our stops as marked on the diagram to the aerial view if you wish.
| | |
| --- | --- |
| | |




Gertie's Garden (1)

The Botanical Garden is a lot different from the Dallas Arboretum. When you first enter through the small entrance house and shop, there is not the big display of flowers as in Dallas, but a winding walkway up to the garden. I did get Rudolf and Fred beside this whimsical display as we came into the gardens.




Cactus and Succulent Garden (2)


In the cactus garden, we stopped to look around; this was of particular interest to both Fred and Rudolf. Although I cannot be sure, I think that this dried-up streambed has been artifically created to give the appearance of desert terrain; it winds along the hillside for fifty feet or so. I know my sister is creating something similar in the woods just in front of her house, so I made a movie of the streambed to show her (although her's won't be a desert scene, but a forest one). You can watch this movie with the player at left.



As he is wont to do when he sees some sort of plant that he doesn't have but might like to try growing at the greenhouses, Fred decided he needed a cutting of some kind of sedum, and I caught him in the act of his theft of botanic garden property with the movie at right.


Palm and Cycad Pavilion / Northrup Tropical Room / Kleberg Desert Pavilion (3)


Probably the signature part of the San Antonio Botanic Garden is the area where four very large conical-shaped greenhouses occupy one corner of the gardens.


As we approached these really beautiful structures, I made a movie showing you all of them, and then, when we neared the closest and largest of them- the Palm and Cycad Pavilion- I made a movie of that one. You can watch both of these movies with the players below:
| | |
| --- | --- |
| The Botanical Garden Greenhouses | The Palm and Cycad Pavilion |
In the Northrup Tropical Room, we ran across some really interesting plant specimens that I had never seen before. I had no idea what they were and forgot to call Fred over to see if he knew. Maybe you do, and you can look at those two pictures here and here.


Finally, in the Kleberg Desert Pavilion (watch a movie taken inside this pavilion at left), we found all manner of cacti, including this very interesting flowering specimen.



As we left the greenhouse area, I took another movie from a different perspective, and you can watch that movie with the player at right. It had been pretty warm this afternoon, and the three of us were ready to return to Ruckman Haus and cool off for a while.





A Visit to the San Antonio Riverwalk

Frank and Joe arrived at Ruckman house about five in the afternoon, after finishing up their chores out at their place in Leakey and then driving in through Uvalde. They got introduced to Rudolf and, when Guy was done at his church and joined us as well, Ron and Prudence took us down to the Riverwalk. Rudolf had never seen the San Antonio Riverwalk, and so we planned to do a fair amount of walking around it and then have dinner at Landry's.




RiverCenter at the San Antonio Riverwalk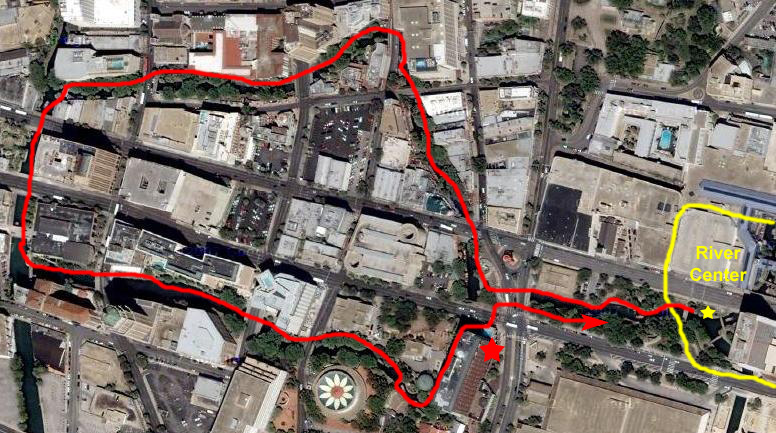 Ron had us enter the Riverwalk through a multi-storey shopping mall called RiverCenter. The mall is at one end of a finger of the Riverwalk system, and you can see it marked on the aerial view above. We entered RiverCenter through its parking garage and then walked through the complex. I made two movies of our group as we walked through the complex to the Riverwalk itself, and you can watch those movies with the players below:
Eventually, we passed the IMAX Theatre, descended the escalator, exited the mall and arrived on the Riverwalk. Outside the doors to the RiverCenter Mall there is a broad esplanade surrounding this end of the Riverwalk system, a bunch of restaurants and a performance stage. I made some movies on the Riverwalk around RiverCenter, and you can watch them with the players below:
| | |
| --- | --- |
| Coming Out on the Riverwalk | The Riverwalk near RiverCenter |



A Long Stroll Around the San Antonio Riverwalk

The San Antonio Riverwalk is an amazing piece of civic development, easily on par with places like Navy Pier in Chicago, South Street Seaport in New York City and Underground Atlanta. It is the city's focal point and one of the most visited sites in Texas (many of the other top ten also being here in San Antonio- the Alamo, for example).

The San Antonio Riverwalk was constructed by utilizing the small San Antonio River, along which the city of San Antonio grew up. The river was never wide or deep enough for commerce, but it did provide water to the early settlements here, before the aquifer began to be tapped to provide water that was much fresher and cleaner. Over time, the river had run through a number of channels, the primary one being the north-to-south channel that you can see in the aerial view above. That single channel was not thought to be enough to accommodate the hotels, restaurants and shops that all wanted to be "on the Riverwalk," and so an older channel was re-engineered to provide a circular attachment to the original channel, vastly expanding the possibilities for commercial development. The spur channel to the RiverCenter is entirely artificial.

The San Antonio River doesn't actually flow very much anymore; so much development has gone on north of downtown that its course has been irrevocably altered. But there is enough water flowing to keep the downtown channels full; there are actually gates and small dams north of downtown and south of downtown that keep the water level in the rest of the system constant. If there is not enough water coming through the river system, water from the aquifer is used to supplement it. And every once in a while, these gates are used to empty the water from the system so that the bottom can be cleaned out as necessary. I've never seen this process, but I'll bet it is interesting.

Anyway, in the last forty years an incredible amount of development has gone on along the Riverwalk. There are some sections of it that do not have much commercial development (restaurants, hotels and such) and walking along these sections can be quiet and contemplative. But in other sections, restaurants, shops and hotels have been integrated into the Riverwalk itself; there are places where the walkway along the river (the entire system being one level below actual street level) goes right through the eating area for a restaurant, or right alongside the doors into a store or hotel (as you will see in one of the movies below). There are arched bridges every so often that carry you from one side of the river to the other, and there are bridges that carry all the downtown vehicular traffic over the Riverwalk. It is almost its own, self-contained little world.

Since Rudolf had never seen the Riverwalk, we took a long walk pretty much all the way around it. I think that the path I marked on the aerial view above is pretty accurate, but I don't supposed that actually matters much. The movies below are a selection of the ones I took that will show you different aspects of the Riverwalk and the activity on and along it. Just click on the thumbnails to watch the movies.




Dinner at Landry's Seafood Restaurant


Landry's Restaurant is one of Ron and Prudence's favorites. I think they know the owner or manager quite well, and have done favors for him in return for meals and stuff for them. I recall meeting the manager a while back. Anyway, we were shown immediately to a good table. I didn't take a lot of pictures while we ate, but before we got started, I did take one movie of our group- a movie you watch with the player at left (Prudence being on the phone taking a reservation for their B&B). I also took a couple of still pictures of our group in the process of ordering dinner. You can see those pictures here and here.

We had a really enjoyable evening both here at dinner and later in conversation back at Ruckman Haus.





Sunday Breakfast at Ruckman Haus

On Sunday, Ron fixed another great breakfast for all of us- except Guy who was at his church downtown. Below are the thumbnails for my breakfast pictures; click on them to see the full-size images:


Rudolf, if I remember right, was going to go to a late morning service at Guy's church, and so after breakfast he dressed in his own robes prior to getting a ride from Ron downtown. Below are some thumbnails for a few pictures of Rudolf- by himself and with the rest of us. You can view the full-size images by clicking on the thumbnails:

We stayed with Ron and Prudence until early evening when we flew back to Dallas. Frank and Joe had to leave right after lunch, and Rudolf also had a flight onward in mid-afternoon. It was a good trip, and we were glad everyone got to reconnect.



---
| | |
| --- | --- |
| | August 22, 2004: Birthday Party for Fred and Ron Mathis |
| | July 31 - August 1, 2004: A Weekend in Florida |
| | Return to Index for 2004 |