| | |
| --- | --- |
| | August 28 - September 4, 2004: A Business Trip to Japan |
| | August 14-15, 2004: A Visit to Ruckman Haus in San Antonio |
| | Return to Index for 2004 |
---
August 22, 2004
Birthday Party for Fred and Ron Mathis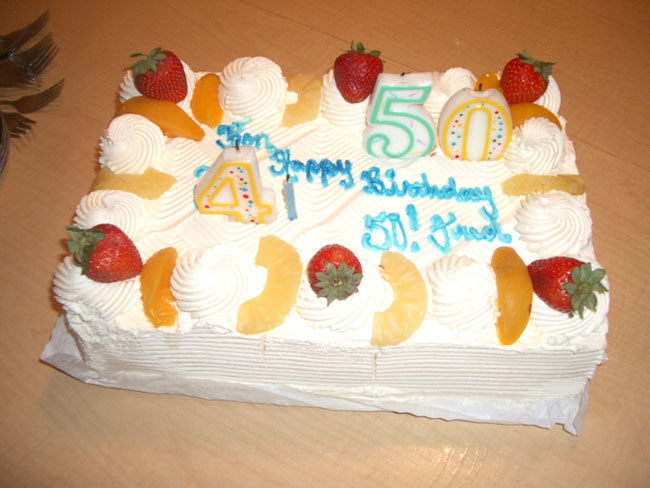 Well, it's that time once again to celebrate the birthdays of Fred, who turns 50 on August 6th, and Ron Mathis, who turns 41 on August 1st. As he has so graciously done in the past, Jay has offered to host a combined birthday party for his partner Ron and my partner Fred. And, also as we have done in the past, all of our Dallas and Sherman friends have been invited- and almost every one of them has showed up.

You will be seeing a number of pictures starring these attendees, so perhaps I can just run down the list:

Fred Nabors, one of the birthday boys
Ron Mathis, one of the birthday boys
Myself
Jay Enriquez, Ron's partner
Lou Acevedo, our friend from Oak Cliff
Tom Harris, another friend from Oak Cliff
John Evans, Tom's partner
Lynne Richardson, our friend from Dallas and the Arts
and
Chris Young, Ron's former partner from Sherman

I am always thankful when Ron and Jay want to use their house for these gatherings- particularly in the summer, since they have a pool. But they also have a lot of space for people to wander around in and a pool table for all us hustlers to use. But I think they also like to host for another reason, and it is a practical one. Both of them like their Jim Beam and Coke and by hosting the party they can consume as much as they want to since they aren't faced with driving home from my house. So our tradition is that these two birthdays, and Jay's are spent at Ron's house while my own birthday party is held at mine.

As I said, one of the nice things about Ron's house is that they have a pool table. Ron, Jay and I are the most avid players, although Fred and John play as well. While people were arriving, Ron and I played a few games and later on John joined in.

Jay did himself proud putting things together. While people were arriving, he had his usual spread of hors d'oeuvres out (and they always fill me up before dinner). Before dinner was ready, everyone either stood around and yakked or played pool or sat outside. John and Lynne sat at the kitchen table for while catching up while I was having a run of luck at the pool table.

Ron and Jay did a great dinner- steak and baked potato and even shrimp cocktails. I know that Fred and impose on Ron and Jay way too much, but Jay is the best cook I know, and it is always a pleasure to have dinner with them. We try to take them out enough times to reciprocate, but nothing much makes up for all the work Jay and Ron put into their dinners. When things are ready, one thing about Ron is (aside from the fact that he is today's birthday boy) that he doesn't hang back- he gets his meal and digs in.


I took a few other random shots while everyone was getting served. I caught Jay in the kitchen and I made a movie of some of the folks serving themselves, and you can watch it with the player at left.


The one major thing that I contributed was the cake. It is always a challenge to have it decorated for two people with different ages, so we usually fall back on candle digits. This is the only way that Fred and Ron would have the lung power to blow out their candles while the rest of us sing "Happy Birthday." Lynne also took the opportunity to explain a bit about some other birthday traditions she's familiar with; you can watch both these movies with the players below:
| | |
| --- | --- |
| Singing "Happy Birthday" | Lynne on 'Birthday Traditions' |
I knew that when the cake was cut people would disperse to enjoy it, and that some might take that as a signal that the party was coming to and and and start leaving, so before that happened, I took the Official Birthday Party Group Picture for 2004.
We all had a wonderful time, and again my thanks to Ron and Jay for hosting!
---
| | |
| --- | --- |
| | August 28 - September 4, 2004: A Business Trip to Japan |
| | August 14-15, 2004: A Visit to Ruckman Haus in San Antonio |
| | Return to Index for 2004 |