| | |
| --- | --- |
| | November 21, 2008: My Birthday |
| | October 21-23, 2008: A Trip to San Antonio |
| | Return to Index for 2008 |
---
October 29 - November 12, 2008:
A Trip to Florida and
A Visit to Disney World
For the last couple of weeks, Fred and I have been talking to Ron Drew and Jay Silbert in Fort Lauderdale about the trip that Fred and I were planning for the end of October down to Fort Lauderdale, and the topic of meeting at Disney World came up. One thing led to another, and soon we had made plans to stop there on our drive down, spend a couple of days there with Ron and Jay, and then go on to Fort Lauderdale. As it turned out, even Steve and Mario would get into the act as they were going to be in Miami during part of our time in Fort Lauderdale, and we planned to hook up and meet their parents.
So that's the plan. I have driven to Fort Lauderdale a number of times, but this is the first time that Fred and I will be doing the drive together.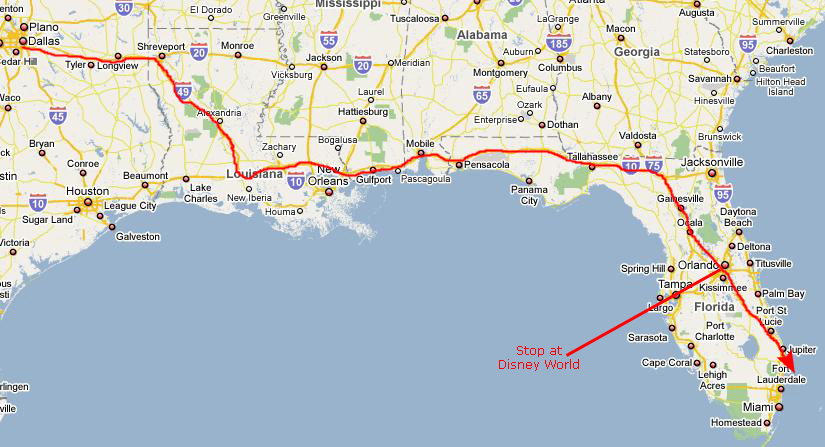 We'll follow the general route shown above, and stop in Orlando for three nights to do the theme parks. The return route will follow the same path, which, in my numerous trips down there by car, has proven to be the fastest (if not the absolute shortest).
This was quite a long trip, and so I will be organizing it the same way I have organized other major vacation trips in this album- by giving you an index into the various segments of the trip.
Using the Master Index
We took lots of pictures and movies while on our trip to Florida, so some organization is imperative. I have decided to organize them by day and, within each day, by the major activity we did. If a further subdivision with a particular activity (such as a day at Disney's Animal Kingdom), I will supply it.
In the Master Index, you will find a link that will take you to each day of our trip. Each of these links will be alongside a description of the things we did that day, so you can look at the days that might interest you. If you are just looking through this album linearly, and want to go through the whole trip day to day, then simply use the first "day link" and start there.
When you get to one of the daily pages, you will see the same familiar buttons at the top and bottom of each page that will take you to the next day, the previous day or back to this Master Index. As I said, I have tried to organize things so that all you should want to do is use the "NEXT" button to go from page to page, but I have provided the other buttons should you wish to use them. When we have returned to Dallas and our trip is over, you will want to return to this Master Index so that you can continue on through the photograph album.
Near the top of many of the daily pages, you will also find a set of links that will enable you to jump to a specific activity that occurred on that day, should you wish to do so. Of course, the easiest thing to do is just go through the day in time sequence, activity by activity; you can always scroll by activities that might not interest you. (In case you might want it, there is also a link at the end of each activity section that will take you back to the top of that daily page.)
When you are done looking at the pictures from our trip to Florida, use one of the "RETURN" buttons that appear at the top and bottom of every trip page to return to this Master Index and then use the link at the top of the index to return to the Index for 2008 or, if you have been going through the photo album linearly, to continue on to the next album page.
We hope you enjoy looking at the pictures. To access the Master Index, please click HERE.
MASTER INDEX FOR OUR TRIP TO FLORIDA
(To leave the Florida trip and continue through the photo album, please click HERE.)

Wednesday, October 29
Thursday, October 30
(Dallas-Orlando)
Driving to Orlando

Friday, October 31
(Orlando)
A Day at Disney-Universal Studios

Saturday, November 1
(Orlando)
A Day at Disney's Animal Kingdom

Wednesday, November 5
Thursday, November 6
(Fort Lauderdale)
At the Condo in Fort Lauderdale

Friday, November 7
(Miami)
Meeting the Friedmans; Meeting the Tarradells; Fairchild Gardens; At the Condo

Saturday, November 8
(Fort Lauderdale)
A Day with Steve, Mario, Ron and Jay

Monday, November 10
(Fort Lauderdale)
Our Last Days in Fort Lauderdale

Tuesday, November 11
Wednesday, November 12
(Fort Lauderdale-Dallas)
The Drive from Fort Lauderdale to Dallas