| | |
| --- | --- |
| | December 15-17, 2008: Three Days in Florida |
| | November 24-25, 2008: A Trip to New York City |
| | Return to Index for 2008 |
---
November 25 - December 17, 2008:
A Trip to Europe and
a Cruise Home to Miami
Last March, Greg began talking about sailing on a repositioning cruise from Barcelona to Miami in early December. He was envisioning that many of his friends would sign up to take the cruise and that, in addition to the fellowship among these friends on board, they could help Greg celebrate his 60th birthday. Fred and I were two of the friends that Greg hoped would make the trip.
So he began sounding out his many friends and, at first, about thirty of them expressed interest in making the trip. Greg took the lead in having his travel agent do the bookings and get the best possible deals for airfare to Europe, any vacations people wanted to take before the cruise, the cruise itself, and airfare home from Miami. During the early summer, the travel agent continued to communicate with everyone and slowly the plans came together. In the end, there were thirteen people that finally decided they could take the time to make the cruise.
Of course, Greg would be making the cruise. But also, from Dallas, Fred and I would be going, partners Tim and David McMullen-Sullivan would go, and partners John Touhey and John Lambert would sail. From San Francisco, Greg's longtime friends and partners Pat McGraw and Pat Alexander would be aboard and, from Palm Springs, Greg's friends Jim Fisher and Jim Jamar would join the cruise. Finally, a friend that Greg used to know from the Turtle Creek Chorale, Jason Swan, who had moved to London some years ago would be bringing his partner, Barry Thomas, also from London. That made thirteen of us.
The travel arrangements were complex. Fred and I would fly to New York City and meet up with Greg, who would already be there, and together we would fly to Copenhagen to spend two days and then fly on to Barcelona to spend another three days before the cruise. Jason and Barry would fly directly from London to Barcelona two days before the cruise. Pat and Pat would fly from San Francisco to Barcelona three days before the cruise. Tim and David planned to fly to Paris and spend a few days there before coming down to Barcelona for the cruise. Jim and Jim flew directly from Palm Springs to Barcelona, arriving late the same day that Fred, Greg and I arrived. And, finally, John and John planned to travel to Paris and Venice before driving to Barcelona for the cruise. Eventually, we would all meet at the Hotel Axel in Barcelona, the last of the group arriving two days before the cruise.
We would all get to spend at least two days together in Barcelona before embarking on the Celebrity Century and cruising across the Atlantic to Miami. Once there, Greg, Fred and I would spend a couple of days at my condo in Fort Lauderdale before returning home, while almost everyone else would fly directly home from Miami. I think that Jason and Barry spent a few days in South Florida before flying back to London.
The cruise itself would originate in Barcelona and then stop in Cartagena, Spain, Gibraltar, UK, Casablanca, Morocco, Agadir, Morocco, Lanzarote, Canary Islands (Spain) and finally La Palma, Canary Islands (Spain) before beginning a week-long cruise across the Atlantic to Miami.
So here is a high-level map of the travels that Fred, Greg and I would share: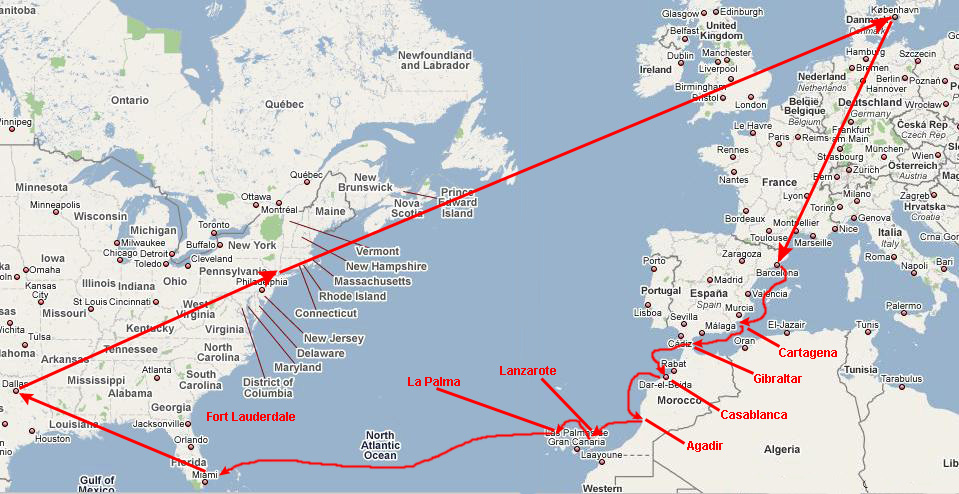 All in all, Fred and I will be gone from Dallas for 23 days- the longest we've ever been gone on a trip. Because we were going to be gone so long, we arranged with our good friends Steve Friedman, Mario Tarradell and Lynne Richardson to stop by the house every few days and make sure that Bobbie Lee, Fred's cat, was OK and had plenty of food and water. They did yeoman service and a great job.
So, we left Dallas on the evening of November 24th, flying first to New York City. We flew to Copenhagen the next evening from Newark. For the rest of our travels, you can look at the album pages for this trip.
This was quite a trip, and so I will be organizing it the same way I have organized other major vacation trips in this album- by giving you an index into the various days of the trip.
Using the Master Index
We took hundreds of pictures and movies while on our trip to Europe and our cruise home, so I have had to find a good way to organize them so that they are not simply overwhelming.
First, I have organized these album pages by destination- not counting New York which is on the album page previous to this one. When we were in the same location for more than one day, I will have a separate album page for each day we were there. (So Copenhagen and Barcelona will have multiple album pages). Within each album page, I will continue the practice I've used throughout this album, which is to have a heading for each major thing we did, or each major event. I will also use subheadings as necessary to make the activities easier to follow.
As far as our time on board ship was concerned, rather than have a separate album page for each day aboard ship (or each evening, when we were stopping at a different port each day), I have grouped all the shipboard pictures into one album page. For example, even though Fred and I took pictures at a number of different meals on many different days, all of them will be grouped together under a single topic ("Food," in this case). Similarly, all the pictures we took of our traveling companions while aboard ship will also be grouped together. I hope that this organization will make the pictures less overwhelming.
In the Master Index, you will find a link that will take you to each destination/day of our trip, and one link for all the shipboard pictures. Each of these links will be alongside a description of the things we did that day, so you can look at the days that might interest you. If you are just looking through this album linearly, and want to go through the whole trip day to day, then simply use the first "destination/day link" and start there.
When you get to one of the destination/day pages, you will see the same familiar buttons at the top and bottom of each page that will take you to the next destination/day, the previous destination/day or back to this Master Index. As I said, I have tried to organize things so that all you should want to do is use the "NEXT" button to go from page to page, but I have provided the other buttons should you wish to use them. When we have returned to Dallas and our trip is over, you will want to return to this Master Index so that you can continue on through the photograph album.
Near the top of most destination/day pages, you will also find a set of links that will enable you to jump to a specific activity that occurred on that day, should you wish to do so. Of course, the easiest thing to do is just go through the day in time sequence, activity by activity; you can always scroll by activities that might not interest you. (In case you might want it, there is also a link at the end of each activity section that will take you back to the top of the page for that destination/day.)
When you are done looking at the pictures from our trip to Europe and our cruise home and our few days in Fort lauderdale, use one of the "RETURN" buttons that appear at the top and bottom of every trip page to return to this Master Index and then use the link at the top of the index to return to the top of this Index page so you can continue back and forth through the photograph album.
We hope you enjoy looking at the pictures. To access the Master Index, please click HERE.
MASTER INDEX FOR OUR TRIP TO EUROPE AND OUR CRUISE
(To return to the top of this page and continue through the photo album, please click HERE.)

| | |
| --- | --- |
| Wednesday, November 26 | (Copenhagen) Arrival; Walking Copenhagen; Thorvaldsen Museum; Christiansborg Palace; Copenhagen Nighttime |
| Thursday, November 27 | (Copenhagen) A Morning Walk; Out for the Evening |
| Thursday, November 27 | (Malmo) Getting to Malmo; The Old City; New Town; Returning to Copenhagen |
| Friday, November 28 | (Barcelona) The Axel Hotel; Plaza Catalunya; La Rambla; A Farmer's Market; Walking Side Streets |
| Saturday, November 29 | (Barcelona) Plaza Catalunya; Picasso Museum; Palau de la Musica; Afternoon Walk; Evening Excursion |
| Sunday, November 30 | (Barcelona) La Sagrada Familia; Casa Mila La Padrera; Evening Excursion |
| Monday, December 1 | (Barcelona) Parc de la Font del Raco; Barcelona Architecture; Sailing |
| Tuesday, December 2 | (Cartagena) Port Area; Center City; Roman Theatre Ruins; Parque Torres; Hilltop Ruins; City Walk |
| Wednesday, December 3 | (Gibraltar) Gibraltar City; Tramway; Top of the Rock; WWII Ruins; Monkeys/Ape Den; St. Michael's Cave; Great Siege Tunnels; City Under Siege; Moorish Castle |
| Thursday, December 4 | (Casablanca) The City Center; Walking Through a Souk; Mosque of Hassan II |
| Friday, December 5 | (Agadir) City Tour; The Casbah |
| Saturday, December 6 | (Lanzarote) Driving to the Lava Fields; Hiking the Lava Fields |
| Sunday, December 7 | (La Palma) San Antonio Volcano; Teneguia Volcano; The Lighthouses; Santa Cruz de la Palma |
| December 8-14 | (On Board Ship) The Celebrity Century; Our Cabin; Traveling Companions; Sunrise & Sunset; Food; Activity Decks; Clouds; Ship Decoration; Around the Ship; Ocean Views; Galley Tour; Greg's Birthay; The Celebrity Theatre |
| Monday, December 15 | (Miami) Arriving in Miami; Debarkation |