| | |
| --- | --- |
| | November 22, 2007: Thanksgiving Day at My House |
| | October 16-24, 2007: A Trip to Fort Lauderdale |
| | Return to Index for 2007 |
---
November 3-11, 2007
A Fall Trip to Georgia and North Carolina
Well, it's Fall again, and that usually means that Fred and I are embarking on a trip. We've already taken two, two-week trips this year; this week uses up the sick leave that Fred never takes advantage of. This time, we've planned a trip that will take us to Georgia and North Carolina, the purpose being to see my sister, my niece and nephew, and Fred's friend Joe Buchannan. For our own part, we plan to do some hiking in North Georgia and perhaps North Carolina, to visit Davidson, NC, so Fred can see my college campus and to visit Savannah, Georgia, a beautiful city that Fred has never seen. We haven't planned out a whole route, like we did for Glacier National Park two years ago, but have just formulated a general idea of where we want to go and who and what we want to see.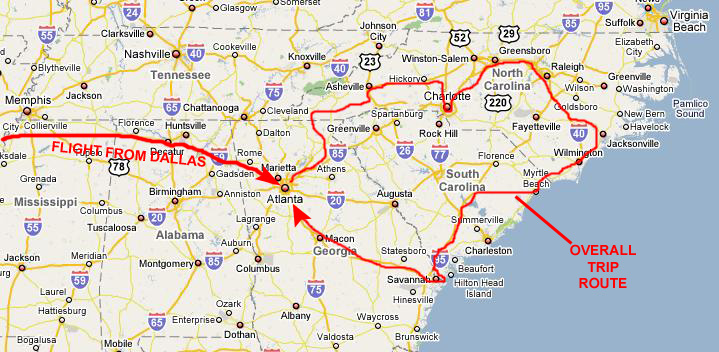 We will be flying to Atlanta, Georgia and renting a car there. Most of the trip will be a driving trip and we will be able to pick our destinations and plan our route on the fly. The only real schedule we had were the flights, and we made our flight home from Atlanta right on schedule, after a very pleasant trip. Aside from getting a bit lost near Charleston, South Carolina, there wasn't much that went wrong on this trip; everything seemed to fall into place nicely. We hope you enjoy looking at the pictures of the trip.
Using the Master Index
We took hundreds of pictures and movies while on our trip to the Southeast, so I have organized this trip into an album page for each day. There are nine of these pages, and you can jump to any one of them using the Master Index below simply by clicking on one of the dates.
We also did a lot on each day, so I have further organized these album pages into a section for each specific place we visited or thing we did. If you wish, you may jump to a specific activity on a specific day simply by clicking on one of the activity links that are indented underneath each date.
If you choose one of the date links, you will be positioned at the top of the album page for that date. There, you can use any navigation technique you wish to read the narrative and look at the pictures that interest you. Additionally, the top and bottom of each album page have links that you can use to navigate to a prior or subsequent day within the Hawaii trip. There is also a link you can use to return to the master index below. Finally, you will also find a set of links at the top of each page that duplicate the function of the activity links below, enabling you to move around the page activity by activity. (At the end of each activity section there is also a link to take you back to the top of that daily page.)
When you are done looking at our "Old Home Week" trip, use one of the links to return to this master index and then use the link at the top of the master index to jump to the top of this index page. There you will find links enabling you to move forward or backward through the photo album, as well as a link to take you to the index for this year.
We hope you enjoy looking at the pictures. To access the master index, please click HERE.
MASTER INDEX FOR OUR "OLD HOME WEEK" TRIP
(To return to the top of this index page, please click HERE.)
Saturday, November 3
Activities in Atlanta:
Arrival at Jeffie's in Atlanta
Neighborhood Walk with Michael
Evening and Hotel


Sunday, November 4
Activities in Atlanta:
Michael's Soccer Game
Stone Mountain
Olympic Park
Evening and Hotel


Monday, November 5
Activities in North Georgia:
Toccoa Falls
Tallulah Gorge


Tuesday, November 6
Activities in Asheville/Charlotte:
The Biltmore Mansion
The Biltmore Gardens
The Biltmore Estate Grounds
Visiting Davidson College
Arriving at Ted's House


Wednesday, November 7
Activities in Charlotte:
Old House on Somerset Drive
Freedom Park
Charlotte Nature Museum
At Ted's House
Visiting Jenny Fallis
Charlotte NC Downtown
To Judy's House in Elon


Thursday, November 8
Activities in Elon:
The Alamance Battleground
The Old Brick Church
Judy's House


Friday, November 9
Activities in Jacksonville:
Driving to Jacksonville NC
At Joe Buchanan's House
Dinner and Hotel


Saturday, November 10
Activities near Jacksonville:
At Joe and Barbara's
Walking the Beach
New River Inlet
Driving to Savannah
Dinner and Hotel


Sunday, November 11
Activities in Savannah/Macon:
Tybee Island Drive
Forsyth Park
Savannah Homes
Savannah Riverwalk
Driving to Macon, GA
Okmulgee National Monument
Leaving for Home