| | |
| --- | --- |
| | November 21-23, 2009: A Weekend in San Diego |
| | October 29 - November 2, 2009: A Few Days in Fort Lauderdale |
| | Return to Index for 2009 |
---
October 29 - November 23, 2009:
Panama Canal Cruise
Some months ago, we started talking with Greg about taking a cruise this fall, and after a lot of investigation, we settled on a cruise through the Panama Canal. The cruise was to depart from Fort Lauderdale on November 2nd, and arrive in San Diego on November 21st after three stops in the Caribbean, a transit of the Panama Canal, and eight stops along the Pacific coast of Central America. We made our plans, booked our staterooms and signed up for our shore excursions.
About a month before we were to leave, Greg was talking with our friends Bud Knight and Chet Flake about his being away on a cruise. Bud and Chet told him they'd be gone, too, and it turned out that they had, independently, booked the same cruise we were on! That made things even better. There would be six of us: Fred and I, Greg and his friend Paul, and Bud and Chet. We made our travel plans so that Fred and I would head to Fort Lauderdale on October 29th and Greg and Paul would arrive on Saturday, October 31st. Bud and Chet would get into Fort Lauderdale on Sunday, November 1st. When we got to San Diego, Bud and Chet would be flying back the same day we docked, but Greg and Paul and Fred and I would stay until November 23rd so that we could see some of San Diego.
Although you'll get plenty of information a bit later on about just what ports the ship would visit, for now, here is a high-level map of the travels that Fred, Greg, Paul and I would share: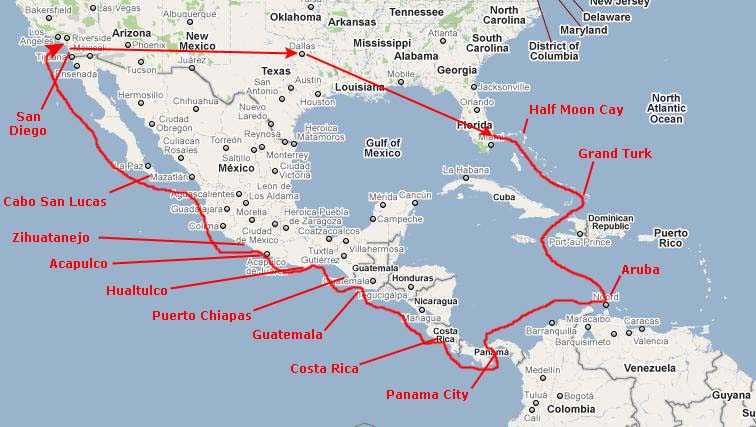 All in all, Fred and I will be gone from Dallas for 26 days- the longest we've ever been gone on a trip. Because we were going to be gone so long, we arranged with our good friends Steve Friedman, Mario Tarradell and Lynne Richardson to stop by the house every few days and make sure that Bobbie Lee and Lucky were OK and had plenty of food and water. They did yeoman service and a great job.
So, we left Dallas on the afternoon of Thursday, October 29th, flying to Fort Lauderdale. We stayed in the condo there until Monday morning, November 2nd, when we boarded the cruise ship. After 19 days aboard, we docked in San Diego, spent two more days there, and flew home on my birthday, November 23rd.
This was quite a trip, and so I will be organizing it the same way I have organized other major vacation trips in this album- by giving you an index into the various days of the trip. (If you have used one of these Master Indexes before in my album, you can skip the explanation of how it is organized if you will click here.
Using the Master Index
We took hundreds of pictures and movies while on our trip to Florida, our Panama Canal cruise and our stay in San Diego, so I have had to find a good way to organize them so that they are not simply overwhelming.
So, I have organized these album pages basically by destination- beginning with Fort Lauderdale and ending with San Diego. In between, there will be a page for each port we visited on the cruise. There will also be an additional page for the transit of the Panama Canal. Within each album page, I will continue the practice I've used throughout this album, which is to have a heading for each major attraction, event, stop or other category.
As far as our time on board ship was concerned, rather than have a separate album page for each day aboard ship (or each evening, when we were stopping at a different port each day), I have grouped all the shipboard pictures into separate album pages. For example, there will be an album page for pictures of the ship itself, and I will put this page ahead of the first cruise stop so that later pictures will be in context. Just prior to the page for our docking in San Diego, I'll have an additional page for topics such as on-board entertainment, dining, ship decoration, traveling companions, etc. On each of these pages, I won't be concerned about the particular day on which a picture was taken. I hope that this organization will make the pictures less overwhelming.
In the Master Index, you will find a link that will take you to each of the separate album pages for this, our lengthiest trip ever. Each of these links will be alongside a description of the things we did that day (or the general picture groupings), so you can look at the things that might interest you. If you are just looking through this album linearly, and want to go through the whole trip day to day, then simply use the first "destination/day link" and start there.
When you get to one of the destination/day pages, you will see the same familiar buttons at the top and bottom of each page that will take you to the next destination/day, the previous destination/day or back to this Master Index. As I said, I have tried to organize things so that all you should want to do is use the "NEXT" button to go from page to page, but I have provided the other buttons should you wish to use them. When we have returned to Dallas and our trip is over, you will want to return to this Master Index so that you can continue on through the photograph album.
Near the top of most destination/day pages, you will also find a set of links that will enable you to jump to a specific activity that occurred on that day (or group of pictures), should you wish to do so. Of course, the easiest thing to do is just go through the page linearly (which, on pages describing a day in port, say, will be in time sequence); you can always scroll by topics that might not interest you. (In case you might want it, there is also a link at the end of each section that will take you back to the top of the page for that destination/day.)
When you are done looking at the pictures from our trip to Florida, our cruise and our days in San Diego, please use one of the "RETURN" buttons that appear at the top and bottom of every trip page to return to this Master Index. Then, use the link that you will see there to return to the top of this page so you can continue back and forth through the photograph album.
We hope you enjoy looking at the pictures. To access the Master Index, please click HERE.
MASTER INDEX FOR OUR FLORIDA/CRUISE/SAN DIEGO TRIP
(To return to the top of this page and continue through the photo album, please click HERE.)

| | |
| --- | --- |
| Monday, November 2 | (Fort Lauderdale) The Oosterdam Sails |
| November 2-21 | (Aboard Ship) The Oosterdam: A Tour of the Ship and Our Stateroom |
| Tuesday, November 3 | (Half Moon Cay, Bahamas) We Explore Holland-America's Private Island |
| Wednesday, November 4 | (Grand Turk, Turks and Caicos) Exploring Grand Turk Island |
| Thursday, November 5 | (At Sea) Sea Day Activities |
| Friday, November 6 | (Oranjestad, Aruba) Exploring Oranjestad; The Dutch Mill |
| Saturday, November 7 | (At Sea) Sea Day Activities |
| Sunday, November 8 | (Panama) We Transit the Panama Canal |
| Monday, November 9 | (Panama City, Panama) The Old Quarter; Lunch and Old Panama; Fuente Amador |
| Tuesday, November 10 | (At Sea) Sea Day Activities |
| Wednesday, November 11 | (Puerto Caldera, Costa Rica) Jungle Canopy Skywalk; Pura Vida Gardens and Waterfalls; Villa Lapas Resort; Crocodiles and Monkeys |
| Thursday, November 12 | (At Sea) Sea Day Activities |
| Friday, November 13 | (Puerto Quetzal, Guatemala) Puerto Quetzal; The Old City of Antigua Guatemala |
| Saturday, November 14 | (Puerto Chiapas, Mexico) Tapachula; The Soconusco Museum; The Ruins at Izapa |
| Sunday, November 15 | (Hualtulco, Mexico) Harbor Walk; Hualtulco Bus Tour; Pacific Catamaran Cruise |
| Monday, November 16 | (Acapulco, Mexico) Exploring Acapulco; El Mirador Cliff Divers |
| Tuesday, November 17 | (Zihuatanejo, Mexico) Parque Aventura Ziplines; Exploring Zihuatanejo |
| Wednesday, November 18 | (At Sea) Sea Day Activities |
| Thursday, November 19 | (Cabo San Lucas, Mexico) The Harbor; Puerto Paraiso; Beach Point; Playa Grande Viewpoint; The Rocks |
| Friday, November 20 | (At Sea) License Plates; Taylor Brown; Towel Animals |
| Saturday, November 21 | (San Diego) Arriving in San Diego; Debarkation |
---
FH RH FV RV FRED AND RON OLD HORIZONTAL



Movie Title

Movie Description.
Multiple Stops:
Stop 1
Stop 2
Stop 3
Stop 4
Stop 1
FRED AND RON OLD VERTICAL
FRED PANORAMIC PICTURES WHEN MIXED WITH OTHERS
FRED PANORAMIC PICTURES ONLY
You can return to today's index or continue with the next section below.

---
Second Level Heading